I was just writing my last column here in the studio in the front of the town hall when people began turning up for Craig Purcell's funeral service. 
The radio station had been able to help out by running a cable to a loudspeaker in the foyer so the people who couldn't fit in the main hall could still hear what was happening. Funerals always overflow from the town hall when someone has died too young and this was no exception. 
Despite the circumstances, I began to get a good feeling as so many familiar faces began to appear outside my window; some people I knew only by sight, others I knew well. They waved to me on the way past the station door or even stopped in to say hello and it was good to see the community gathering together.
Being part of this community feels really important at times like this and it reminded me of my father's death a few years back. The committee running this station arranged for Lilypott florist to deliver a gift to my place. When I came to the door I met Diane, who used to own Lilypott. She gave me the gift and also gave me a hug and expressed her condolences and I remember thinking how much nicer that was than having a stranger coming to my door on that day.
It often takes something as big as a death to cut through our busyness, and appreciate the community we live in.
I count myself doubly lucky because I have this great job where I interview people from the community on a daily basis. I get to have interesting conversations with people who are making a difference in town, or who are celebrating something significant – and because it's an interview I get to ask deeper questions than I might ask in a normal conversation. 
I spoke to Aaron Brunet straight after the Masterchef win when he was in the middle of a string of national interviews. He really enjoyed talking to us here in Raglan and hearing about the crowd of people who had gathered at the pub to watch the final episode. I get a kick out of talking to the people who have created projects like Whaingaroa Harbourcare and Xtreme Waste, and am currently loving regular chats with Plastic Bag Free Raglan and The Karioi Project as they start to make a difference, too. I couldn't imagine living anywhere else.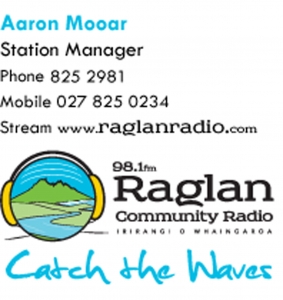 Aaron Mooar is the Raglan Community Radio Station manager and Morning Show host. He interviews locals most weekdays between 9am and 10am weekdays on 98.1FM. You can also get the webcast or the podcasts at www.raglanradio.com.