Raglan mums Rebecca Hishon and Charlotte Hartstone know better than most what it must feel like to be Santa's little helpers –  for years now they've been amassing toys of all shapes and sizes for sharing out to local families.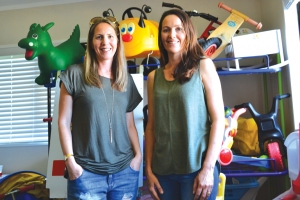 But after successfully running the local toy library for a decade they're now looking to hand over the … err … reins.
Rebecca and Charlotte's own girls – they have six between them – are now well past the pre-school stage but have had a ball over the years "test driving" the new toys as they've arrived every few months.
"It's like Christmas," the pair laugh, admitting they've enjoyed, too, choosing which toys to buy courtesy of their annual Toy Library Federation funding. Generous funding comes also from the Lottery Grants Board, the Meridian Te Uku Community Fund and the Raglan Lions Club.
Rebecca and Charlotte are the only foundation members left of the five who met downtown in 2006 at the Tongue & Groove – now The Shack – in response to a Chronicle ad for interest in starting up a toy library.
Back then they were first-time mums, both with daughters named Keira. The coincidences continued with their second daughters born on the same day, and even their third babies were just a few months apart.
They've also both celebrated a "big birthday" this year and reckon that with no littlies at home any more during the weekdays they've done their time. "We know there are [just the right] people out there who are keen to keep providing our families with affordable toys and who can inject some fresh enthusiasm."
The Whaingaroa Toy Library's an "awesome" community service, they reckon. Members pay a yearly fee of $30 then just a 50c, $1 or $2 rental per fortnight for toys worth $50, $100 and $200 respectively.
"It's incredibly reasonable," Charlotte told the Chronicle. "We're one of the cheapest toy libraries in New Zealand."
It's also very social and all the hard work's been done, she says. "It's just a case of keeping things ticking over now … it's not like we're abandoning a sinking ship."
The library is run a bit like a co-op, Rebecca adds, with each of the 30-odd members taking turns to help out between 10am and noon on a Monday when a paid librarian issues the toys.
The pair hope for a smooth transition and say they'll be there to support the newbies, whether they're young parents or maybe even grandparents with time on their hands. "It would be a shame to close the toy library down after a decade of developing it to where it is today."
They point out that no particular skills are needed, and "everything can be learned as you go".
This year the library – which is both a charitable trust and incorporated society – became more accessible to many parents when it shifted from its long-held premises at Te Uku Hall to a one-time counselling room in the basement of The House downtown.
Toys to be loaned fill the room but there's always space for new ones, Rebecca says, because the high-use equipment is "culled" regularly.
Edith Symes
Find Whaingaroa Toy Library on Facebook, or call Charlotte on 825 7332 or Rebecca on 825 7516 for more information.