When Soundsplash was bought back to Raglan in 2015, one of the future visions for the event was to use the festival to create a learning experience for Raglan youths. In early May this year, three young Soundsplash workers, Te Ata Barlow (23) , Herewini Barlow (20) and Jarome Lundon (24), will embark on a trip of a lifetime to the United States to work with bamboo artist Gerard Minakawa.
Gerard will take the boys on until early July to work on builds for Lightning in a Bottle Festival in Bradley and Electric Daisy Carnival, commonly known as EDC (one of the biggest electronic dance music festivals in the world), in Las Vegas.
A New York native born to Argentinian and Bolivian-Japanese immigrants, Gerard studied industrial design at the Rhode Island School of Design and was named one of the top 20 innovative US designers by I.D. magazine.
His works feature in numerous international books and publications, including the Wall Street Journal, The Washington Post, Metropolis and the New York Times.
Gerard's company, Bamboo DNA, specialises in the design, construction, and installation of bamboo structures and environments. He works with some of the biggest music festivals around the world, including Boom Festival (Portugal), Burning Man (US) and Coachella (US), designing and constructing stage environments and artistic structures.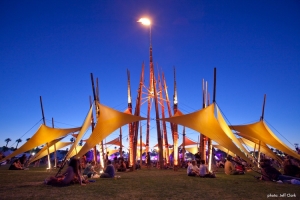 Gerard's 'Bamboo Starscraper', built in 2009 for the Coachella Music Festival
Soundsplash organiser Brian Ruawai describes Gerard as "the man".
"This is a huge opportunity," says Brian.
"For Gerard to take off three of his own crew and put these three boys on is a huge thing. Usually it takes years to get put on his crew."
Having travelled to Raglan to help with Soundslash 2015, Gerard worked closely with Te Ata, Herewini and Jarome and he was impressed with the three boys' work ethic and problem-solving skills.
"We learnt heaps of things," says Te Ata about their experience working on Soundsplash and with Gerard, "how to work with the bamboo, how to tie the knots", and family members will concede that none of the boys tie knots – even their shoelaces – quite the same anymore.
Creating opportunities for young people has always been a motivation for Brian and his partner, Naomi Tuao, who play in reggae band Cornerstone Roots.
"We've had such amazing experiences touring and we want some of our youth to experience these things," says Naomi.
Brian says he sees a "a lot of the young guys around here getting into things like steel fixing and scaffolding, which is great, but these jobs can be hard on your body".
"A lot of people here are really creative and we wanted to show them a different option.
"There also isn't a lot of positive outlook here for young people looking at things like who's getting jobs, who's not getting jobs. Not everyone's got a support system so we want to support our young people in looking for positive outlets for their energy so they're not looking to negative things."
With their passports sorted, this will be the first time the boys will be going overseas (apart from Jarome who has been to Australia). Feeling ready but slightly nervous, Jarome says he is looking forward to "a different environment, seeing something new and working and learning".
The boys will be pretty busy for most of the trip working on the builds but Gerard has invited them to stay with him on his ranch in Joshua Tree and is keen for them to experience the Fourth of July while they are in the States.
"Everything they experience in between working will be a bonus and we can't wait to hear what they have done," says Brian.
Te Ata, Herewini and Jarome will be fundraising for their trip leading up to May. If you would like to help the boys out, please contact Tamara Kereopa for any fundraising inquiries: kereopatamara@gmail.com