Local swimmer Peter Aim won an impressive six medals, all in swimming events, at the New Zealand Masters Games held in Dunedin over the weekend.
The New Zealand Masters Games is the largest multi-sport event in New Zealand.  Held yearly, the event alternates between Wanganui and Dunedin. The 29th New Zealand Masters Games was held  in Dunedin from the 3rd to the 11th of February 2018.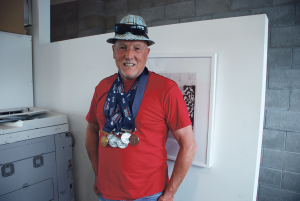 Proving age is no barrier to participating, the Games hosts 60+ sports which attract more than 5,000 competitors aged from 18 to 95 and beyond.
The goal of the Masters Games is to encourage participation in sport where camaraderie and competition are equally celebrated. People compete for various reasons whether it is to stand on the podium, improve their personal best, catch up with friends and enjoy the social atmosphere.
For most sports there is no qualification criteria other than age.  That means anyone can compete – either to win or simply have fun.