Monique (Mogz) Chaplin is the bomb – the New Zealand Bomb Comp open women's bombing champ, that is.
Cleaning up the competition for a second year in a row, the 31-year-old reckons you can't grow up in Raglan without picking up some bombing skills.
"It pretty much comes natural," she says. "There's no secret, you just jump."
Contestants are judged on height of splash, style, volume of splash and originality.
Held in the first weekend in February at Lake Tikitapu (Blue Lake), Mogz won $1000 she will put toward a holiday to visit family and friends in the Gold Coast later in the year.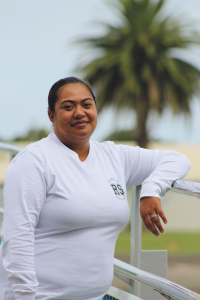 Last year, she also took out the women's title at the Bomb Masters Comp Gold Coast.
Jumping from a 10-metre high platform doesn't faze Mogz. She's been jumping from the Raglan walk bridge for as long as she can remember.
"If it's hot, I probably jump at least 40 times in a day."
Winning the inaugural 2017 NZ Bomb Comp in Taupo, Mogz couldn't resist going for it a second time and she's not ruling out making it a hat-trick next year.
She's throwing the gauntlet down for more women to enter the competition – "the more girls the merrier."
Mogz will also feature in a bomb documentary being filmed around the country. From the penny divers of Rotorua to the Raglan and Ngaruawahia bridge jumpers, the doco takes a look at the Kiwi fixation with making a splash.
Also representing Raglan, DJ Kiel came second in the male youth division and former Raglanite and Mogz's cousin, Maria Taitoko, came second in the open women's division.
Janine Jackson