Roadside dumping in Whaingaroa has got volunteers out on the weekend walking the state highway in an effort to keep Raglan clean.
Over a period of several weeks the crew have walked 14km of SH23, put in around 12-hours of walking, collected over 500kgs of rubbish and five large barrels of recycling.
Organised by locals Lee Knight, Mike Clarkson and Jake Fyalka, the men had initially taken action themselves and Lee says they quickly realised they needed more help.  Both Mike and Lee have been picking up rubbish at various dumping sites around Karioi since November last year.
"We both noticed the sheer volume of rubbish, and the state highway was getting worse through the summer months and that's when Jake came on board," Lee says.  Some of the rubbish is accidental but most is either thrown from vehicles or illegally dumped and the men have even dealt with human faeces from freedom campers around the coast.
"It's very evident that contractors are not picking up litter and are just mowing it up into smaller pieces along the sides of the road."
With around 25,000 vehicles on SH23 over the summer months, Lee says the job they have undertaken will be ongoing and already he's seen cans littering parts of the road they have cleared in the past few weeks.
"I don't want to just be sitting there saying this is filthy, this is disgusting. I want to just get in and get my hands dirty and get the job done," Lee says.
The group are determined to keep going and have set their sights on making it to the bottom of the divvy this Sunday, and eventually get to the top of the divvy and then tackle Te Mata Road as far as Te Papatapu Rd.
"We want to make a big dent in it and then monitor it. It would be nice to just go once a month but come summer the rubbish is just going to be crazy again."
Volunteers are welcome to join the crew and can make contact via their Facebook page – Raglan clean up crew. Lee is a trained Site Management Traffic Supervisor and the volunteers are briefed about safety. Thanks to Raglan Roast in Te Uku for the free coffees and to Xtreme Zero Waste for free dumping.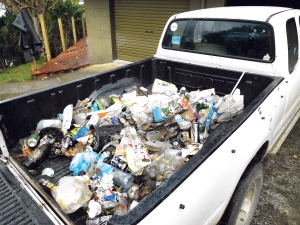 The next mission is this Sunday, July 8 at 11am, meet at the Te Uku School car park.
Janine Jackson