Raglan locals were out in full force at the Raglan Naturally community engagement event on the weekend at the town hall.
Hundreds turned up during the two-day event to check out the work of the 11 focus groups and to have their say about what's important to them.
Kicking off on Friday evening, Waikato District Council representatives including Mayor Allan Sanson, chief operating officer Tony Whittaker and general manager community growth Clive Morgan attended and agree the event demonstrated the hard work put in by the Raglan Naturally group over a number of years.
"We can't wait to work together as we move through this blueprinting project, which of course will encompass the incredible work put into Raglan Naturally. Together we'll be able to demonstrate what the Raglan community want for their town in the future," Morgan says.
On the Saturday, the town hall was set up with a kids' zone, table tennis table, focus group snapshots, food, music and story-telling.
Throughout the day the supper room was used for guest speakers including Timebank's Meredith Youngson, Raglan community board member Tony Oosten discussing Raglan's infrastructure, Xtreme Zero Waste's Rick Thorpe, Bexie Towle from Karioi Maunga ki te Moana, Karamea Puriri discussing business and tourism, Whāingaroa Environment Centre's Anna Cunningham and transport focus group member John Lawson.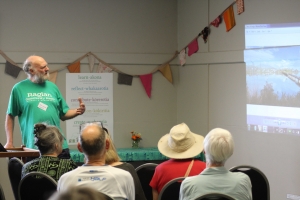 Raglan Naturally coordinator Gabrielle Parsons says the event is the start of the Raglan Naturally's community engagement phase and there were still more opportunities for locals to contribute.
"Community engagement is the most important part of this phase of the Raglan Naturally process and we want to hear from everyone who has something to share.  It was great to have such a large turnout over the weekend, everybody was keen to contribute and we received some really positive feedback."
Janine  Jackson
A survey will be sent out to the community in the next couple of weeks and people can also share their thoughts on the Raglan Naturally Facebook page, www.raglannaturally.co.nz or raglannaturally@gmail.com.