Raglan Area School students brought their learning to the streets in a week of social action campaigns.
The Year 9 and 10 students tackled some of the big issues concerning New Zealand including, single-use plastic, homelessness, refugee ration challenge, random act of kindness, ban 1080, pollution, interactive art and te reo Māori promotion.
They also spread happiness through a random act of kindness day and asked the community 'what would you change in our world' in an interactive chalk art installation.
On Monday, a group of students set up camp outside the library to highlight the plight of homelessness in New Zealand.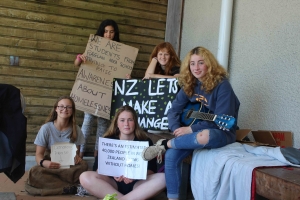 As well as raising awareness of the issue the girls – Brooke Ahern, Paris Teddy, Lydie Madsen, Griffin Pohutukawa and Sophie Higgins – also raised money for the Hamilton Night Shelter.
They stayed until midnight using cardboard, newspaper and sleeping bags as their only means of comfort.
"We really wanted to understand what it would be like to be homeless," Paris says.
Social Sciences teacher Joe Rao says the students have had positive feedback from the community.
"People really listen to young people and it's good for them to engage the community about issues they care about."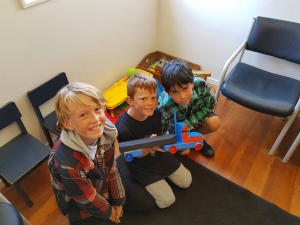 Taking their learning outside the classroom has had spin-on effects, Joe says, with SuperValue offering reusable produce bags or paper bags as alternatives to single-use plastic bags and students are working with both SuperValue and Raglan Four Square to introduce te reo Māori signs in the produce department.
A successful beach clean-up from Papahua to the Kokiri Centre has opend the students' eyes to the issue of single-wrapped lollies and they are now researching alternatives.
"Our young people are a powerful force for change," he says.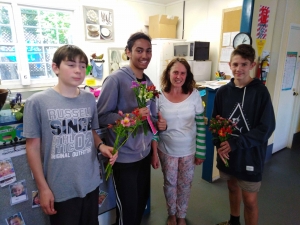 Janine Jackson