Several large slips between Lorenzen Bay and the wharf have taken large chunks of private property into the harbour below.
The slips occurred during stormy weather in August, and along with large amounts of clay, one has brought down debris potentially used as retaining from the property above, including bricks, corrugated iron and plastic pipe, and another has a building located close to the edge.
Waikato District Council deputy general manager service delivery Roger MacCulloch says council are following the advice of Central Government of managed retreat regarding erosion, which means moving buildings away from the slips rather than attempting repairs to the eroding areas.
Council only repair or mitigate erosion damage on council land and then only if it poses a risk to public safety or critical infrastructure assets are at risk. Private property owners are responsible for managing the effects of coastal erosion on their properties, and with erosion likely to continue property owners will need to take steps to best manage the situation.
"As erosion is a naturally occurring event no action is taken unless there is a risk to the public or it is obstructing access to, or from, a property. But we do inform a property owner if there is any debris that has resulted from human activity that it is their responsibility to ensure it is removed."
MacCulloch says council is aware of a number of sites of erosion and slips that have occurred on private properties in this area and are currently working with two separate property owners.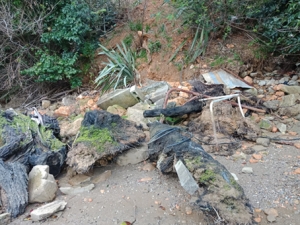 "Council follows up on compliance and monitoring of land use or building consent conditions. This may include the requirement for the removal of debris from the coastal marine area/foreshore at the landowner's cost. Council will work with landowners to ensure debris is removed and if necessary that would include the issuing of abatement or infringement notices."
Currently, council is assessing coastal hazard risk along the district's western coastline as part of the District Plan Review – Stage 2, which focuses on coastal erosion, inundation and factors in the effects of sea level rise.
This work will include a broad scale assessment of coastal hazards along the open coastline in rural zoned areas, and a in-depth study in more densely populated areas in and around Raglan and Port Waikato.
The results will help inform changes to the development controls within the Proposed Waikato District Plan.
Janine Jackson