A mangrove (mānawa) murder mystery has a local environmentalist scratching his head over the culprit's motive.
Whāingaroa Harbour Care stalwart and Waikato Regional Councillor Fred Lichtwark noticed the carnage to the protected shrub along the causeway from the one-way bridge round to the airstrip on Marine Parade on his way to the community board meeting last week.
Fred says the mangrove vandals have done a lot more damage to the wider environment by removing the ecologically significant native plant.
"They have been there for 50 years without being touched," he says.
"This flies in the face of what Raglan is all about."
Mangroves play an environmentally important role, including filtering heavy metals washed off nearby roads and roofs and reducing the amount released into the sea, providing food for snails, worms, shellfish, small fish and crabs, acting as buffers against erosion and storm surges, and oysters, mussels and barnacles attach themselves to the mangrove's aerial roots.
With a stormwater pipe emptying into the harbour close by, Fred says the destruction of these filter plants negatively impacts the marine life in the harbour.
"The harbour is a nursery habitat for lemon fish, which is specific to Whāingaroa," he says.
"It provides habitat for the mullet which are running at the moment and mussels even little scallops adhere to the roots of the mangrove."
Fred can't make any sense of the destruction which saw the vandal wade through thick mud armed with a cutting implement to hack more than a dozen mature mangroves.
"This is an idiotic thing to do," Fred says.
"I don't know if they were protesting against the Greens or what they were doing."
Niwa's recently released mangrove management guide warned that mangrove removal often did not have the desired effect of returning sandy flats and removal areas ended up looking unattractive and smelling foul.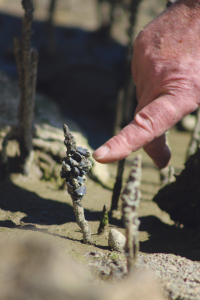 Research in 40 mangrove removal areas found the adverse effects were immediate and long-term and included sediment that lacked oxygen, was often black in colour and smelled of sulphur.
A Waikato Regional Council incident response team visited the site last Thursday and confirmed that 17 (of approximately 25 in the immediate area) mangroves had substantial foliage cut from them.
The council is keen to hear from anyone in the Raglan community who has any information about the incident and although only a relatively small number of plants were effected the council is interested in understanding why it has occurred.
People caught removing mangroves without first getting permission can be fined or prosecuted by the Waikato Regional Council.
Phone Waikato Regional Council 0800 800 401 if you have information about the mangrove incident.
Janine Jackson