Around five cubic metres of rubbish collected during a community beach clean last Sunday highlights the impact single-use plastic is having on the environment.
The event was pulled together by Tim Duff, Mark Frost, Ian Hardie and Phil Knight with support from Whaingaroa Environment Centre and Xtreme Zero Waste.  Tim, a keen kayaker, highlighted the issue of plastic accumulating on a stretch of remote beach following a paddle up the coast north of Te Kaha/Mussel Rock. 
"We thought it was a nice way to end Seaweek," Whaingaroa Environment Centre coordinator Stacey Hill says. "Whaingaroa started Seaweek with Maui Dolphin Day and ended it with a beach clean."
A group of 25 people of all ages and from as far as Waitetuna spent several hours gathering the debris, and Stacey says they found a shocking collection of rubbish ranging from car tyres and polystyrene to shotgun casings and plastic in all shapes and sizes, washed up along this stretch of coast.
Xtreme Zero Waste education and communications coordinator Nenya Chapman says this stretch of coast and one south of Ruapuke are notorious collection points for debris, and the ocean currents shift the rubbish to these spots constantly.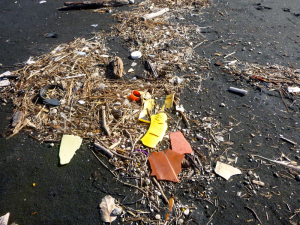 Much of the plastic was unrecognisable and made pinpointing where it originated from difficult, but the group believe it's a combination of local rubbish alongside rubbish washed up from outside of Raglan, and possibly outside of New Zealand.
Stacey says micro-plastics are an increasing issue in our oceans and the group found many nurdles – the micro-sized beads of plastic used in plastic production – which would have come from other parts of New Zealand where manufacturing occurs.
Overseas studies showed nurdles resemblance to fish eggs, a food source for a variety of sea creatures, posed a threat to marine life.  According to recent media reports New Zealand imported nearly 210,000 tonnes of nurdles last year and 61 per cent of plastics made in New Zealand are used for packaging.
Stacey says consumers' choice around plastic products is important but the direction local and central government takes with policy-making is vital.
"There are many things individuals can do to minimise single-use plastics in their lives but the government support is really important. We also need the producers of this plastic to start taking responsibility"
It is important for people to keep in mind the 5 Rs –  Refuse, Reduce, Reuse, Repurpose, Recycle  –  Nenya says, and container deposit schemes would help immensely.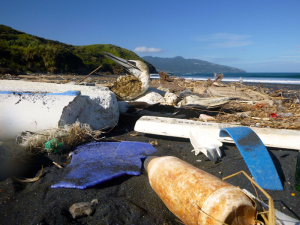 They say the event also highlighted the need to organise at least three-monthly beach clean ups and hope to hold the next one in July.
The beach clean up was supported by WOK providing apples and Bayleys Real Estate shouting the coffees.
Janine Jackson