Don't be put off by your level of fitness or skill set, Karioi Maunga ki te Moana is looking for volunteers to fill a myriad of roles to create a predator-free Whaingaroa.
The A Rocha Aotearoa project aims to restore biodiversity with more than 45 km of trapping lines and over 1500 traps in order to restore the Oi (grey faced petrel) population that breed on Karioi each year as well as little blue penguin, kaka, bellbird, tomtits, kereru, morepork, tui, and fantails.
Volunteer coordinator Bexie Towle says the community-led project has plenty of volunteer opportunities for people who aren't so keen on bush whacking and trap checking.
"We've got roles that cater for all levels of fitness and abilities."
From at home data entry to promoting the project at events such as Maui Dolphin Day, Bexie says new volunteers are always welcome.
"Anyone who volunteers is immediately part of our Karioi family. Some of our volunteers have been with us for the entire 10 years the project has been running."
There are also data and technical, media, photography, videography, drone videography, art, education, communication, bird-monitoring, scientific and conservation and health and safety roles.
"We're open to ideas on how to promote the project. I'm always posting my amateur phone videos on our Facebook page. It would be good to have someone who knows what they are doing," Bexie laughs.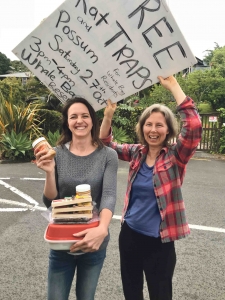 As well as extensive traplines on Karioi, there are a number of trap hot spots along the coastline from Riria Kereopa Memorial Dr to Manu Bay and Indicators that are less challenging and easily accessed by road which need checking and resetting.
Bexie says the Karioi Maunga ki te Moana backyard trapping programme is a also great way to connect with neighbours and get on top off rats and other pests in your local neighbourhood.
A Whale Bay backyard hub has set up an extensive network of local backyard traps and for some it meant meeting neighbours for the first time in the 15 years they had lived there.
"It's as much about community as it is about conservation. Our volunteers have caught over 7000 predators and at least 800 more have been trapped through the Backyard Hub. That's a lot less rats, stoats and possums in Raglan," Bexie says.
Maintaining the traplines is key to the project but Karioi Maunga ki te Moana project manager Kristel van Houte says the goal is also to increase the trapline coverage and the volunteers and landowners play a huge role in expanding the project.
"Because of extra funding we hope to finance expansion by 100 hectares per year and we are working together with Te Iwi Tahi pest control to do this."
For more information contact bexie.towle@arocha.org.nz, visit www.karioimaunga.co.nz and click on the get involved link or check out the Facebook page @karioimaunga.
Janine Jackson