Students at Raglan Area School decided to make a stand against Leukemia and Blood Cancer by organising a sponsored Shave for a Cure event.    
On September 5, Deputy Head Girl Ngaramai Elliott-Rooney stood alongside Mickey Brajkovic and several other students in front of the whole school and were shaved by Ray Bailey and Joel Rankine from Raglan Barbers.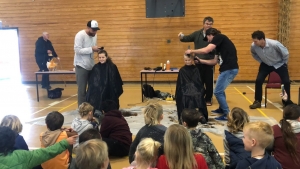 The event was organised by Ngaramai Elliott-Rooney in collaboration with Angela Massey. Along the way, Angela was approached by 10-year-old student Mickey, asking to be involved in the fundraising efforts. When Mickey's mother Mala was young, she lost her brother Anton to Leukemia. Sadly, Anton passed away at 15 from complications during treatment. This is the reason that Mickey felt passionate about being involved.
Mala, Mickey's Mum said, "I'm really proud that she was brave enough to do this for Anton and other kids with Leukemia, but I wanted to make sure it was worth it, that it would make an impact."
It certainly made an impact, one that led Mickey to raise over $4000 for Leukemia and blood cancer. Ngaramai raised $400 for this amazing cause. Raglan Area School is so proud of the shavees, and hope that the money donated really does make an impact.
The hair from Ngaramai, Mickey, and fellow student Jaime Witters will be sent to award-winning hairdresser Danny Pato  to be made into wigs for patients with Alopecia and hair loss due to chemo.
Iemaja Hassell.
(RAS student journalist)