This week the Chronicle  caught up with local personal trainer and fitness consultant, Sophie von Huben, to get some info about her popular fitness classes..
Tell us a little about yourself:
My name is Sophie von Huben for those of you that don't know me I am a fully qualified Personal Trainer and Group Fitness consultant.
It was the Raglan Surf Academy that brought me to Raglan nearly 19 years ago, and I have been a part of this amazing community ever since. For the last year I have been running my Personal Training and Group fitness business here in Raglan. Some of you may have seen me with my awesome Bootcampers down at the Kopua Domain for Sunrise or Sunset training sessions!
Tell us about your fitness classes?
When we are not training outdoors you will find us at my SOFIT studio on Wainui Rd (414 – first driveway on the right after the beach turn off).
We will be putting a sign up soon, so you can't miss us! There we run awesome Strength, HITT and Cardio circuit sessions, working on building overall muscle strength and endurance and improving your cardiovascular system.
We have just released our BOXBABES sessions where parents can bring their little ones along, and our awesome BODYFORCE class hits our timetable next week.
Are there other classes you offer?
I have also collaborated with Bethany Lyons, fully qualified yoga teacher from The Space, and fully qualified Polestar Pilates trained and Physiotherapy Masters graduate Tessa von Huben to make our awesome Ying and Yang Trio collective sessions.
I have also been very fortunate to have had the opportunity to have worked alongside and be trained by Tom Wellby from Whale Bay Fitness. Tom is an exceptional athlete and trainer – Raglan is lucky to have someone with so much experience and knowledge and I loved all the amazing years of fitness classes in which I was introduced to the TRX suspension system that I now use in a lot of my training sessions.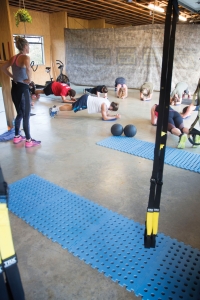 How can people take part in the classes?
If you're interested in training with us for either personal training needs or to join a group fitness class or collective session, please contact us on 0220447122 or via our Facebook page.
We offer $7 Group Fitness Trial classes for first timers and we have summer PT specials running.
https://www.facebook.com/sophvonhuben.fitness/
http://sofit.simplybook.me/v2/