Raglan's senior masters women's team in waka ama won the Whaingaroa club its first medals ever at the national sprint championships held at Lake Karapiro last week.
Team Taiaroha, comprising of Lynne Rogers, Sheryl Rangiawha, Neria Mataira, Debbie Phillips-Morgan, Jocelyn Hartstone and Sarah Harihari, won gold in the 500m W12 with Ngaruroa, from the Ruamata Waka Ama Club, and bronze in the W6 500m.
Paddler Sheryl Rangiawha, who has never competed at national level before, said her team was "stoked" to win the medals.
She said she was so nervous to enter the W12 race, where two boats of six paddlers are strapped together, that she wanted to pull out.
"The other team is like the next level to us … it's pretty full on," Sheryl said.
She said she was pleased to have stuck it out for the gold.
"It wasn't until the girls up the front stuck their hands up in the air that I thought, shit, we have won!"
Sheryl said her team, which is considered a novice team at the national championships, was also pleased with their efforts to win bronze in the senior masters women's 500m race.
She said the paddlers in the teams that beat them had experience at the worlds, and "it was marginal who was second and third".
Steerer Lynne Rogers said: "What was really neat is that we have actually been training in really heavy winds and tides and it was nice to get out and not have to contend with that. The weather was surprisingly good."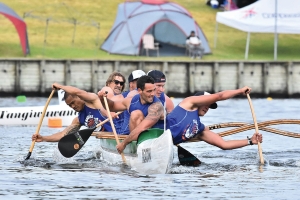 A Raglan premier men's team also competed at the nationals. Team Nekeneke came eighth in the W6 1500m and also made the semifinals for the 500m.
Five Raglan teams competed at the regional sprint competitions in December.
The Raglan waka club has been running for more than 20 years.
Inger Vos