Moggie (Monique) Chaplin has a sore butt and her leg is one big bruise but New Zealand's bomb queen says she wouldn't have it any other way.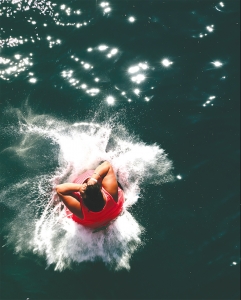 The 30-year-old Raglan resident entered and won the open women's competition at the NZ Bomb Comp held at Wharewaka Point, Lake Taupo, over the long weekend.
"It was freaky," says Moggie, who jumped from a 10-metre scaffold for the quarterfinals, and then from an 8m height for her winning bomb in the finals on the scorching hot Sunday.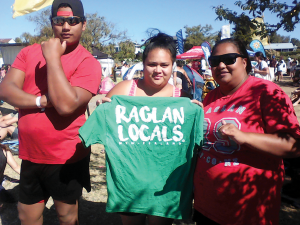 "I had a sore arse, got burnt as. My leg is all bruised up but it was worth it."
She came home with a giant $1000 cheque and a trophy thing, "a medal around my neck".
Moggie and two other Raglan residents, DJ Kiel – who came third in the 13-16 age-group category – and Kayla Lord, entered the competition after seeing it promoted on Facebook.
"We represented Raglan.
"I thought why not get a crew together and go down for the weekend."
The trio had a support crew of about 20 friends and family cheering them on.
Moggie dedicated her finals jump to Richard Keremeta and Ra Smith.
Richard died a year ago after jumping from the Raglan footbridge and being struck by another jumper, while Ra died after he was flung from the back of a ute that plunged off Wainui Rd into the harbour on Boxing Day, 2014.
A panel of judges scored competitors on a points system taking into account height of splash, volume of splash, and style and difficulty of the bomb.
Moggie, who likes bombing off the Raglan footbridge, laughs that she won, saying it came out of nowhere and she has no idea really about what makes a good bomb.
"People say it's your weight but I seen skinny people and they can do a good bomb."
So it's also about technique, she reckons.
As for style, Moggie did a nutcrack bomb, "that's where you put your hands in front of your private parts and jump".
She says she had no idea how she was faring in the competition, "I just heard the crowds when I came up out of the water".
"It was an amazing experience, I'm going back next year," she says, to defend her title.
"I'm the Queen of the NZ bombing comp!
"I got interviewed by all sorts of people, televisions crews. We were on Sky, I don't know what channel."
DJ says he has been bombing since he was thrown off the Raglan footbridge at the age of 3.
Inger Vos