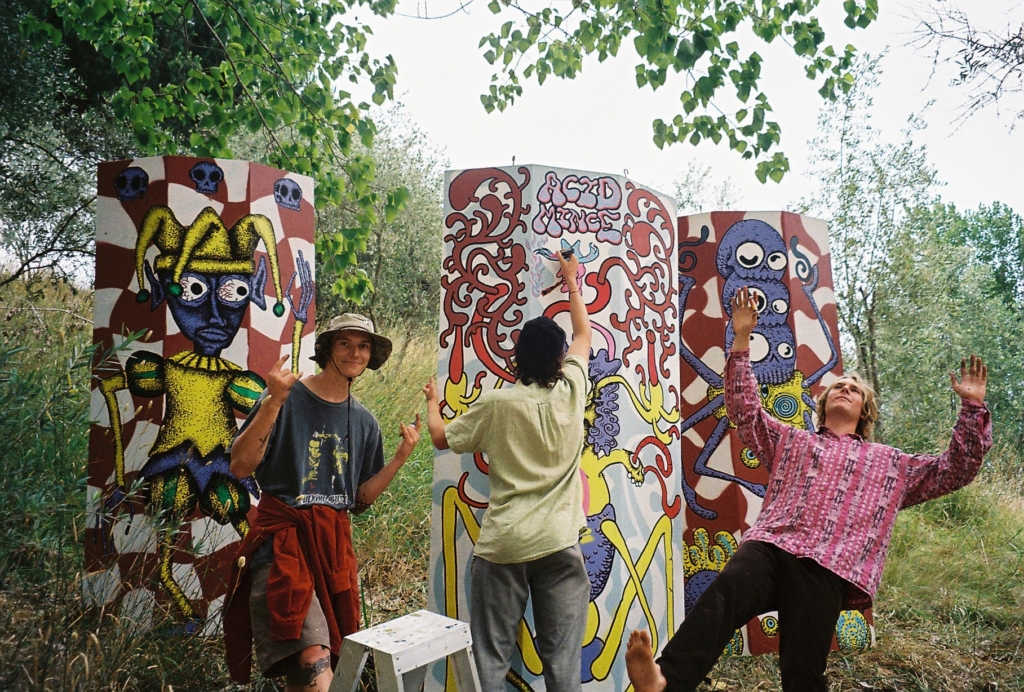 After hours of deliberation, I believe that there is no greater formation of adjectives to describe the art created by Seb Hart and Ziggy Knuiman than 'Acid Mince'. This avant-garde psychedelic art form is the union of the inner mind workings of Hart and Knuiman in an impressionable, detailed and unique way.
I conversed with the Mincers to learn more about them, who they are and what they do. Born and raised in Raglan, Hart and Knuiman are two independent artists and friends who have naturally collaborated and formed Acid Mince over time- describing it as "A joke that went too far."
With pen as their medium, the general creation process consists of Knuiman starting off the artwork with a character and Hart 'doodling' in the rest. Hart defined their source of inspiration as "The pulling of every life experience – whether it is traversing transcendental imaginary realms, skateboarding or going to a gig at the Yot Club." Despite their works' intricacy and perceived intimacy, there is little or no deeper meaning behind them- the boys are just creating as they feel and doing what they love whilst having fun with friends. The logical process is so simple, heavily contrasting the intense outcome that is alluring and, quite frankly, rare.
Acid Mince's works may look familiar, as it has featured on Raglan Roast coffee cups and on murals done in collaboration with our mate Sim Bla at the Yot Club, Surf co, Indis Coffee, and Workshop Brewery. As well as having their own clothing line, the Mincers have also been working with local surfboard shapers Mark Camenzind and Eddie young from Space Shapes Surfcraft to customise boards. Recently, the creators have been working on works for the upcoming exhibition 'Inner Space' which will feature Acid Mince, their friends and fellow artists Annika Clover, Korrin Beavan, and Ciaron Lannon. The exhibition runs from May 28th and runs through until the 7th of June, thanks to Chris Meek, who has very kindly lent the artists his epic space on 28 cross street.
Acid Mince has an ecstatic appreciation for the Raglan community and their supportive friends. Hart and Knuiman explained that they "Owe everything to this community and are fortunate to be surrounded by so many creative and amazing individuals."
Hart and Knuiman are just about the most humble people I have ever met, but the evident can-do attitude and willingness of Acid Mince is admirable. Without much intention aside from just 'doing what they love and creating what looks cool', they are pioneers within a new generation of art culture. This culture is one where fewer young people are purchasing physical artworks and buying more clothing than ever. The limited quantities of Acid Mince's collections mean that there is no overproduction, and they are producing slow fashion- which sustainability and logically is the smartest thing to do. In a world where it is so easy to view artwork online, it is fantastic that Acid Mince presents their talents on everyday objects, such as coffee cups, surfboards and clothes.
And as for the future of Acid Mince? Hart responded, "in outer space." I don't think that is a far fetched idea.
Leilani Goodal