Record numbers donned their lycra and hit the road for the Karioi Classic's 10th birthday bash, with close to 400 cyclists pedalling round the mountain.
And this year the weather gods put on a fine display for Raglan's premier endurance road cycling race.
Organisers Lisa Thomson and Dirk De Ruysscher are thrilled with the turnout and say they couldn't have asked for a nicer day and nicer competitors.
"We love hosting the Classic, it's about showcasing not only our beautiful backyard, but our awesome community as well," Lisa says.
Special trophies were designed and made by Doug Ford for the decade celebration and each competitor received a ceramic medallion handcrafted by Karla Stevenson and Hayley Hamilton from The Monster Company.
It's also the eighth year the popular winter cycling event has been as close to zero waste as possible and is something organisers Lisa and Dirk are enormously proud to support.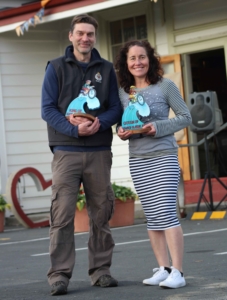 They have eliminated single use plastic and use flax cable ties instead of the traditional cable tie which are the norm at most events.
"It's really neat when people come in to pick up their plate numbers and we give them their flax ties and they walk away stoked. Some even say, we've heard about these. They appreciate the thought that has gone into the event and the quirky but affective solutions we have come up with," she says.
The race came to life in 2010 after Dirk and Lisa had run a number of sporting events, which included the Sea to Sand Triathlon series and Off Road challenges which took place at the Kokiri Centre.
"We wanted to focus our energies on growing mountain biking and the Classic seemed like a great option. We made the decision to host the event in winter to bring visitors to town in the quieter months and also to have less of an impact on the community and the environment," she says.
Ironically, the first event winner in 2010 came across the finish line riding Dirk's old Cyclocross bike, which was a great surprise to the pair.
"It seemed a good omen and ever since we've hosted the ride on the last Sunday of July."
Over the past decade their sports trust has sponsored Raglan Area School sports, including waka ama, basketball, soccer, rugby, triathlon participation and this year they are giving $1000 toward the Raglan Area Schools' sport hardship grant.
Lisa and Dirk are grateful to local businesses who provided spot prizes, funding, accommodation packages, upcycled bags and more.
"We also couldn't do an event like this without the support of our volunteers who are an integral part of our event, they are out in the rain, hail and sunshine with smiles, words of support and genuine warmth that is much appreciated by our competitors."
The three different distance events – The Classic 43km, The Classic XL 57k, The Enduro 85km – offered riding options for cyclists of all ages and fitness levels.
Karioi Classic results – for more full results visit results.racetiming.co.nz/competitions/1625
The Enduro 85km
1st Male Logan Griffin 2:47:33
1st Female Alice Coombes 3:23:42
The Classic XL 57km
1st Male and new record holder Alex Fierro 1:55:50
1st Female Sammy Maxwell 2:05:20
The Classic 43km
1st Male Luke Kivell 1:29:57
1st Female Amber Johnston 1:47:17
Special Awards
Oldest competitor – Garry Humpherson 83 years old – 43km – 2:26:59
'Best Mullet Award' went to local Dughall Eadie.