A tiny house build has brought a big name in television to Raglan – and given the town a starring role in the first season of a new online do-it-yourself series.
UK architect George Clarke, perhaps best known here for his programme 'Amazing Spaces', offers guidance on "thinking big in a tiny house" to a young Auckland couple as they balance having to trim the size of their new beach retreat against the needs of a growing family.
While the Mitre 10 Tiny House series has only a very specific target audience – digital-age DIYers – Raglan has been getting national exposure in recent days courtesy of television advertising of the new on-demand programme.
George Clarke himself has been seen around town on and off too since last year when the DIY project kicked off with Jacson and Dominique Kluts welcoming him to their elevated Kaitoke Bay site up a long, shared driveway.
But locals themselves have been largely oblivious to what was afoot in their own back yard. Retired WDC area office manager Steve Soanes – whose driveway is only a stone's throw from the Kluts' – was away at the time and had no idea the 35sq m house was being moved on site until well after the event.
Another near neighbour saw the sudden addition to the skyline only the next day when he looked out his kitchen window while making breakfast.
One of the few in the know was longtime local Chrissy Cox, who sold part of her back section to the young couple about five years ago when they were just engaged. She was delighted to see their bach arrive and told the Chronicle Jacson and Dominique – who have camped many times on site, first in a tent and then a caravan – were "great neighbours".
The six-part DIY series follows Jacson, a firefighter, and Dominique, a primary school teacher with a new baby on the way and two-year-old daughter Lilia, on a whirlwind journey to build their tiny house in an Ardmore Airport hangar – avoiding the pitfalls of a wet winter – from the ground up.
With a long wish list and a small space it took some innovative thinking, clever design and good old-fashioned Kiwi ingenuity to pull the build off.
Viewers can follow their journey from the first episode in which the couple are figuring out just how big a tiny house really is through to seeing George Clarke's reaction at their finished product on site in the last episode.
Of course there are hiccups all along the way, with an unexpected surprise in episode two demanding a massive rethink and a hold-up in episode four when the couple worry their build won't fit through the hangar door come moving day.
But ultimately the tiny house looks "fantastic", George Clarke enthuses on his final visit to the Raglan site. "Obviously Jaco and Dom set out to create themselves a very lovely house but in fact they've gone way beyond to create a place they've only ever dreamt of."
Dominique says: "It still seems like a dream. I love coming here (to Raglan)."
The family's finished 4.2m-high contemporary beach house on the 559sq m section comes complete with a lounge, bench seating with storage, kitchen, full bathroom with a generous walk-in shower and a bunk bedroom for the children. The master bedroom is up an indoor ladder and has a deck overlooking the water.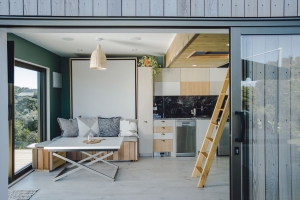 "It is luxurious," says Dominique. "The design choices we've made don't make it feel like a tiny house."
The Chronicle found some small builds in town and around including Solscape's earth domes and eco-baches, and a few other quirky options – including a treehouse – on Facebook's 'Tiny Houses Raglan' site.
The off-the-grid romantic getaways, just beyond Whale Bay, are listed with Airbnb.
Edith Symes