A furore has erupted over garden beds in Bow St with many taking to Facebook to vent their frustrations.
The comments on Raglan Notice Board questioned why ratepayer's money was being wasted, the choice of new plants, the use of out-of-town contractors and lack of consultation.
Feelings were running high with one local woman putting herself in front of the diggers to stop the work.
Waikato District councillor Lisa Thomson expressed concern for the hardworking council staff at the library who copped a lot of flak for the work.
"I respect people's different viewpoints and understand when they feel frustrated but it's how we express those viewpoints and how we work together as a community without degenerating into arguments and online attacks."
Lisa says many of the plants were dying due to the tough growing conditions or were getting so old they need replacing, and the much-needed work is part of WDC's plan of works and will benefit the long-term health of plants in the beds.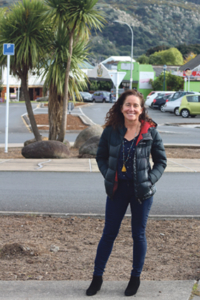 "The Puriri had die-back, the cabbage trees were diseased and the titoki was struggling because the soil wasn't deep enough," she says.
All the work has been undertaken by local contractors, including Raglan Landscaping, Pipescape and Raglan lawns.
The new planting design will include New Zealand natives such as dwarf toe toe, dwarf harakeke, purple harakeke, pohuehue, taatarahake and mikoikoi, which are all drought tolerant and have low maintenance requirements.
"I saw the garden beds being dug up and they were only 50mm deep before they hit clay.  They have dug down as far as they can go before hitting electrical cable and filled the beds with top soil and mulch."
The plants for the small, semi-circle gardens along Bow St have been chosen by the businesses adjacent to each garden giving them a unique personality.
Planting will begin the week of June 10.
Janine Jackson