Known as the Raglan Karioi Trail ambassador, Dave Upshall has run every year in the event since its inception in 2013.
At 53, he is competing in is his sixth trail this year and although his training schedule sees him running much less these days, he's still keen to lace up his running shoes to run up the maunga.
"I think I've got a few more Karioi trail runs left in me maybe I'll go four more years and that will make it 10," he laughs.
Dave reckons running the trail is a great way to kickstart summer and it helps him set a personal goal for the event. He says his main goal is to finish and doing it somewhere in the five-hour mark is a bonus.
"I think most who have competed would agree it's a pretty tough day at best and if it's wet parts of the course can be very muddy and slippery."
Dave's run in a few events over the years, including the Hamilton Half Marathon, a couple of full marathons, for his 50th year he ran the summit of Karioi summit and has run the maunga from the Ruapuke side for fun a few times. He says there's something about the Raglan Karioi Trail, the location and the mountain that keeps him coming back for more.
The trail on Saturday, December 8 offers three challenges to cater for all abilities – the 24 km single or relay, a 10km run or walk and the 5km family run. The 24km route traverses the mountain twice with a total elevation gain of 1850m.
Organsier Francois Mazet says the Raglan Karioi Trail is a great way to discover the beauty of Karioi maunga and everyone approaches the event with different goals – from a fun challenge with the family to competing against the clock and other runners.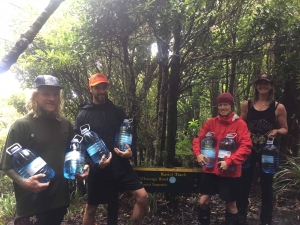 Registrations are open online at www.raglankarioitrail.co.nz, head to the Isobar, 23 Bow St on Friday, December 7 from 4.30-7.30pm and also on the morning of the event.
Janine Jackson