Xavier Fournier knows first-hand the perils of mountaineering. The Swiss mountain guide, who is living in Raglan for a year with his family and commutes to Wanaka for his work with Aspiring Guides, was the "tramper" who recently found the remains of a body on Fox Glacier.
Two weeks ago today, Xavier was working with four clients – "doing some ice climbing work" – between Pioneer Hut and Chancellor Hut when he "saw some weird stuff on the glacier".
He says what turned out to be bones, pieces of skin and clothing were in the middle of a serac, which is a massive block or column of glacier ice and dangerous because they may topple with little warning.
"I had to set up a fixed rope because it wasn't easy to access … to make it safe for me to go over there," says Xavier, who has been mountain-guiding fulltime for more than 15 years and doing search and rescue work for 10 years.
News stories about his find stated that it was thought the "body" may have been in the ice for 30 years or longer, preserved, but Xavier says there was "no body", just a few scattered bones – "the kea can make a big mess" – and the clothes he found did not look to be very old.
Xavier called the Department of Conservation on his satellite phone and they contacted the police, but the weather was turning so he flew out later that day after photographing his find and telling search and rescue of the location.
The remains were finally recovered on Monday last week and flown to Christchurch for an autopsy and formal identification.
Xavier's wife, Sandrine, says it will be nice for the remains to be returned to the family, and off the glacier.
The couple knows what it is like. They've had friends and known guides who have died in the mountains.
A colleague of Xavier's was killed in an avalanche while working with a client in Mt Blanc, France, and his body was never recovered from a crevasse.
"We know where he is," says Xavier. "There are a lot of people like that in the mountains.
"If the rescue operation is dangerous and you know someone could not have survived then it doesn't make sense to take the risk to remove the body."
He says in the mountains, it can go very quickly from "dream to nightmare".
One of his search and rescue jobs back at home involved a group of friends caught in an avalanche just before a wedding. Everyone survived but the groom, whose body was dug out of the snow two days later – his avalanche transceiver had failed.
Another time he was climbing the Weisshorn, a major peak in Switzerland, with a client when they met two other climbers.  "They were happy after summiting, nice guys, good skills". The weather was great!
Then, right in front of Xavier and his client, one of the men fell down an easy climb and in less than a second had pulled his companion with him.
"They fell down a 400m cliff of rock and ice and died certainly after the first hit. "My client was pretty shocked. That was a hard time for both of us," says Xavier, who organised the recovery of the bodies.
"Too many funerals and not enough weddings," says Sandrine, who is a teacher back home in Valais, where the mountains are in Switzerland.
Xavier, who has also been involved in search and rescue operations with happy endings, chuckles. You get the impression that this is a well-discussed topic. "Sandrine doesn't like it when I work winters because she scared of the risks of avalanches," Xavier says.
The risk of avalanche is very difficult to assess, and "you never know 100 per cent how close from an accident you are until you are caught in a snow slab".
Also, on the mountains, like on the sea, weather is always an issue.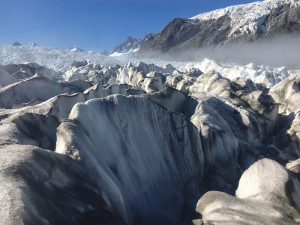 "If you are in trouble and you have crappy weather, everything is very complicated: the cold, hypothermia, no helicopter for transportation. In New Zealand, the weather is changing very quickly and when the weather is bad it's often very bad. In Europe, or other places in the world like the Rockies, Nepal, the weather is more continental with less moisture and less wind.
"I'm always having a lot of respect with the Kiwi weather and I try to avoid to climb when the conditions are bad. It's pretty common to get stuck in a mountain hut because the weather is bad …  sometimes even getting to the toilet is a big deal!"
For his part, the father of two – Lily, 9, and Zian, 13, attend Raglan Area School – is always trying to minimise any risk, and not just to placate his wife.
"I really like the risk management part of the job. The older I get, the more margin I take to stay safe. I love my job. Climbing and spending time in the mountain is my passion so I would like to do it as long as possible without accidents … but it's such a nice lifestyle that it makes sense to accept some risks – everybody will die once."
However, for now he is working the summer season in New Zealand so the risk of an avalanche is low –and living in Raglan is "great fun because I can enjoy the sea and the mountains down south".          
Inger Vos