Former local boy Dale Perry has gone from delivering milk in Raglan to rally competitor, and he hit the gravel roads last Saturday in the final round of the New Zealand Rally Championship.
Dale finished the rally top of his division and 21st overall after a few spins and 'off-road excursions'.
He says it may be the last time in a long while that Raglan hosts the Hyundai NZ Raglan Rally of the Coast with towns like Waitomo keen to get in on the action.
"The top WRC rally drivers who have raced the Whaanga say it is the best in the world. It's an iconic stage and an iconic coast."
With 75 cars and six people in every team the economic benefits of the race to the town are far-reaching but Dale says residents' complaints are making it harder to organise.
The action on the gravel started at the airfield in Raglan and finished at the Raglan Club, and Dale says the club was pumping and the restaurant was still serving food at 11pm.
Despite doubts over the Raglan rally he hopes to work with the club to put on a sprint event next year.
Before he took on the Whaanga coast leg of the championship, Dale visited Raglan Rest Home and Hospital in his rally car as a favour to manager and long-time friend Maree Burley.
"The last time I was in the hospital was in 1958 when I was born. I like giving back to the generation of people who I looked up to and sharing the sport with them because they don't get the opportunity to go out and follow it."
Many of the residents had question about the horsepower, pace notes and speed of the Mitsubishi Evolution 6 RS, Maree says, and were shocked at the pace the rally cars drive on the local gravel roads.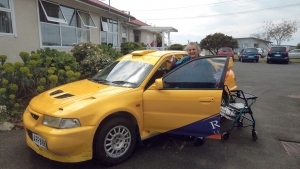 "There was a suggestion of swapping the engine with a resident's electric wheelchair – however the thought of the possible chaos this may cause put paid to that."
The 60-year-old started driving at 19 and owning Rally Drive NZ allows Dale to indulge in his need for speed on a daily basis.
Dale and wife Maureen, still own a bach in Raglan and they love being able to get away to enjoy his home town when they can.
Janine Jackson