When Raglan-based scientist Liz Wedderburn says she'll be "hanging out" in India for Christmas, you can bet it'll be something of a busman's holiday
Especially so when she and a Canadian friend who works for the cattlemen's association are planning not to do the usual tourist traps but instead to catch up with a German camel herder in Rajasthan, a northern state of India that borders Pakistan.
The three women are friends who met through their work with the Global Agenda for Sustainable Livestock, and are looking forward now to getting together for a very different kind of Christmas.
Not that travelling abroad is new for Scotland-born Liz who commutes daily from her home overlooking Raglan to Ruakura where she is assistant research director for AgResearch.
The job includes international collaborations for research, the 64 year old told the Chronicle. And as part of the centre's Global Agenda team she has travelled most recently to Uruguay, Colombia, Peru and Costa Rica.
"It's a real privilege to be able to work with these people," Liz said.
"What I really enjoy about the trips is that New Zealand is able to act as a catalyst to bring people together," she adds. "The (Latin and Central American) people there do a lot of good work but are not very well connected, whereas New Zealand has a different mindset and helps coordinate things."
To put it in perspective, Liz explains how the overall goal of the Agenda team is to try to demonstrate the contribution the livestock sectors globally contribute to sustainable development goals. "We need more protein in the world by 2050 to feed a projected population of 9.6 billion."
So last month, for instance, Liz was one of six Kiwis from AgResearch, Massey University and the Livestock Improvement Corporation – funded by the Primary Industries Ministry – to run a workshop in Costa Rica for 40 researchers and policy people from across the farming sector.
The common vision was to help develop a more efficient dairy programme together, she explains – low cost, low greenhouse gas-emitting grazed dairy systems.
Although there's been a lot of bad press around dairying, she says, livestock is very important for rural livelihoods and much is being done to mitigate its negative impacts.
Liz points out that New Zealand is very good at designing farm systems. "But we're not lifting one system out of our country and dropping it in another," she says. "We work with the (indigenous) people and bring our thinking, our mindset."
It's a two-way process, she insists, in that the Agenda team also got out and about to see firsthand the  "great biodiversity"  which is not typical of New Zealand. "We take a set of principles there and bring another set back here."
Liz was particularly intrigued by the mix of  monkeys, mangoes and iguanas all on the one farm in Costa Rica, with coffee-growing an additional possibility on others.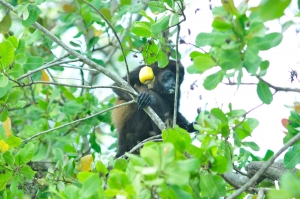 The country is a tourist destination, she says, and is now looking to establish eco farms. Such diversification not only attracts the young Costa Ricans back into farming, she adds, but we can learn from them too and look outside a monoculture.
Liz has returned from her trips enamoured with the Latin and Central American culture. "The people's energy is fabulous," she says. "They're so hospitable and really motivated."
And communication was no problem: a mix of Spanish and English they call Spanglish sufficed, she laughs.
Edith Symes