Te Uku sustainable architect Daniel Freidrich is "gob-smacked" to have come away from the Otago/Southland ADNZ Architectural Design Awards with a win for an energy efficient home inspired by the dramatic backdrop of The Remarkables and their wider landscape.
He'd felt there was "no chance" of picking up the award for residential new homes between 150m2 and 300m2 after scoping the 50-odd entries in that category on his arrival in Dunedin.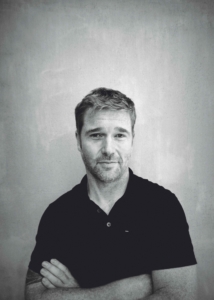 "They looked really sharp," he told the Chronicle.
But the judges thought differently, praising 'Twin Peak House' in Jack's Point, Queenstown, for its strong connection to the outdoors achieved with high raking ceilings and large clerestory windows carefully placed to take in the rugged peak views.
They said the DF Design entry was uncompromising on arrival but opened magnanimously to shared indoor and outdoor spaces.
"Fire and ice meet in this lovely home, centred on a spectacular living space," they said. "The fireplace is backed by a schist wall and framed by custom triple glazed windows looking out to snow-clad mountains. A toasty refuge in the southern wilds."
Daniel himself is proud of what he describes as Twin Peak's simple, sharp lines and form, and welcomes the professional recognition for his work in sustainable architecture. "It's a nice feeling to be rewarded for the hard work and the client is really happy too (with the home which has also had a Master Builders win)."
Daniel came up with some creative solutions to ensure thermal performance, which was high on the list of client objectives. He imported from his native Germany triple glazed tilt and turn joinery made of larch which goes with the home's natural larch cladding.
These windows are eight times as thermally efficient as anything available in New Zealand, he says.
"Surprisingly, this decision had no negative effect on the budget when compared to locally sourced aluminium joinery, but it reduced the overall heating demand of the home by approximately 50 percent."
Schist – a traditional material that dominates the region – also has great thermal mass properties so it made sense to embed the fireplace into a schist wall in the living area, says Daniel.
Meanwhile a fully insulated concrete floor provides enough thermal mass to absorb the solar energy through the full height windows and doors. And an energy efficient in-slab hydronic underfloor heating system was installed to take the edge off during the cold winter months.
Daniel – a carpenter before turning his hand to design – started work on his own rustic-looking home in Te Uku alongside SH23 seven years ago. He knows it was seven years because that's how old the youngest of his two sons is.
He remembers telling partner Erin – now his wife – the date the digger was booked for, while she informed him it was the same date as her Caesarean booking.
Their house which includes a "beautiful" office is built from giant redwoods on the property, also incorporating the available Japanese cedar and gum trees.
Meantime a new Raglan build, 'Eucalypt-haus', has won the exact same category in Waikato's regional Architectural Design Awards for Hamilton's Design House Architecture.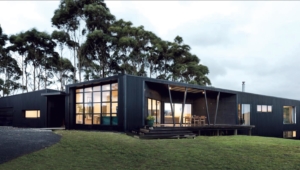 The judges said the large lifestyle block was an opportunity for a young family to stretch out after years in a tight urban space. The home designed by Design House Architecture director Kris Wilson engaged with the landscape and met with the occupants' needs for a comfortable, unique family home on a modest budget.
The site offered an incredible backdrop of mature eucalyptus trees, with an outlook to mountain ranges and a distant ocean view. The obvious building platform was on the crown of a hill, falling away in all directions.
*Regional ADNZ Architectural Design Awards are held across the country from June to August in the lead-up to the national awards in Queenstown on October 18.
Edith Symes