Over the coming months we'll be… eating our way through Raglan… for lack of a better term. And we'll be telling you all about it. Hopefully we won't make your mouth water, too much. We're kicking off 'On Our Plate' with one of the newer kids on the block, The Local Eatery.
The Local Eatery opened at the start of summer and has quickly become the perfect healthy addition to the CBD. Featuring fresh juices, house made ramen, tacos, delicious raw cabinet treats and more, The Local Eatery provides a tasty compliment to its' neighbour, The Herbal Dispensary.
Owner, Cheryl Beere has recently extended her hours and is now open in the evenings, Thursday through Saturday, featuring more healthy eats with a Mexican flair. With a background in macrobiotics and having spent years on the road in Mexico, Cheryl brings a whole new taste to town.
I grew up in America, surrounded by Mexican food. From drive-thrus to fancy restaurants, you could have your pick anytime of the day. So after years of easy access, to a very limited selection, I was more than ready to experience those familiar tastes.
Settling in at the bar, I quickly felt right at home. One of my favourite things about The Local Eatery is the atmosphere. You get a first-hand view into the kitchen, and can sip on your favourite juice or drink while watching your meal as it's prepared.
My meal started off with a classic margarita, made straight up. It was the perfect complement to the Tuna Tartare Cheryl soon placed in front of me.
Tuna Tartare. Topped with gaufrettes and radish sprouts, sitting on top of one of the best sauces I've ever had. Truly. If I could eat everything with a little bit of hibiscus bay sauce on it, I would. At one point I asked myself if it would be appropriate to lick the plate… don't worry Mum, I didn't. But I definitely did my best to clean it up.
Like everything at The Local Eatery, Cheryl makes the hibiscus bay sauce from scratch. She even pulled out the bag of dried hibiscus flowers for me to smell. This little flavourful plate is also one of the many gluten free items available on the menu.
I am not a picky eater by any means, but I have my expectations when it comes to certain food, especially when it comes to authentic, Mexican dishes. But my main plate would soon follow suit to that of the Tuna Tartare.
The Pollo en Mole Poblano Chicken.
Mole. My dear, dear friend. Mole, pronounced "mole-lay" is known as Mexico's national dish. But, for all of you sauce fans out there, Mole is simply a sauce. But it's not that simple. Mole's can be packed full of chilies, seeds, nuts, vegetables and, a little bit of chocolate. The chicken was cooked to a juicy perfection and it sat lovingly next to a scoop of Mexican red rice, all surrounded by the delectable Mole Poblano. To say it was good would be an understatement.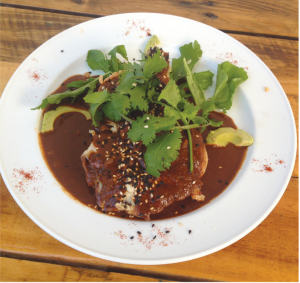 No Mexican meal would be complete without a little bit of tequila. And Cheryl has the perfect imported selection to compliment her food. Not for shooting, but for sipping. Tequila made to taste, and well made tequila is always worth a sip.
After filling up on Mole, I graciously passed on dessert, but ordered a Mexican Hot Chocolate to takeaway. The perfect amount of sweet and spice to end things proper.
The Local Eatery's dinner menu is packed full of flavour. With dishes ranging from $8-$30, plus dairy free, gluten free and vegan options, there's something for everyone. The menu will change each week as well, so you're bound to find a new 'favourite' with every visit.
Are you hungry now?
Karamea Puriri
Visit The Local Eatery at 6 Wallis Street, Monday – Sunday 10am to 4pm, and Thursday to Saturday 6pm to 10pm.