Located just off Wainui Road on your way to the beach, I found myself at Rock-It Kitchen over the weekend. A once woolshed turned art studio, it is now the perfect home to the kitchen, a lowly surf shop and the esteemed TractorFM. Not to mention, one of the best backyard decks in town.
Rock-It's walls show signs of the art studio that once was. Throughout the year you will find local artwork decorating high and low, paying homage to the building's past.
On any given morning or late afternoon, you're sure to find something to fancy your taste buds here, but it's Rock-It's evening menu that has me coming back time and again.
Open for dinner on Friday and Saturday nights, Rock-It's nighttime vibe is sure to please. Taking full advantage of the deck in the summer, to cosying up with friends inside in the winter. It's the perfect place for a night out.
Sarah, owner of Rock-It Kitchen, works alongside her chefs, Sascha and Simba to put together fresh, unique dishes that will make you stop with every bite to savour the taste.
Rock-It's menu is simple and straightforward, and the staff is more than helpful when you can't quite decide between one dish or the other. …In this case, I was recommended two. Because why not.
I heard the free-range chicken had just been given a little rework, so I was excited to see what the fuss was all about. Had I paid closer attention to the description on the menu I would've been more prepared for bliss, but I decided to go for the all out surprise instead.
As I was cutting into the perfectly juicy piece of chicken, I realised that this wasn't just any 'piece of chicken', it happened to be stuffed with a portobello mushroom and bacon duxelle. For all of us non-chefs, that means a mushroom and bacon minced paste.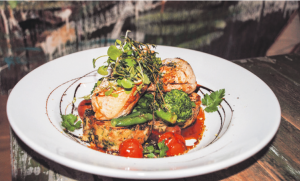 The chicken sat on top of a medley of seasonal broccoli, tomatoes and two plump, herb packed dumplings. Garnished with pesto and fresh rosemary. I'll let the picture speak for itself.
When the second dish arrived, I had to pause for a quick taste bud breather. I sipped on my wine and prepared for the next round. I have to point out that the current gallery of work by Geb Burns is stunning. I was almost happy with my wine, her pictures and the good music playing in the background. But alas, someone has to report on the food around here.
Dish two featured seared scallops and prawns, atop a feta risotto, all drizzled with citrus and truffle oil dressing. Honestly, it's torturous trying to write this recap for you.
Scallops, prawns, and feta risotto. You really can't go wrong with this one. The citrus dressing on top enhanced each one separately, making the combination a mouth watering delight.
I tried my best to savour the flavours on both plates, and unfortunately had no room for dessert. But I can say with confidence that a long black and a homemade cronut or hot slice of banana bread from the cabinet makes for the perfect sweet treat no matter what time of day.
Whether you are partial to meat, fish or prefer the vege route, Rock-It has something to suit every palate.
If you haven't made it for dinner yet, gather your friends up and head out for 'Eats 'n' Beats' on a Friday or Saturday night. With occasional live acoustic musicians or a dinner set from one of Tractor's own DJs, the tasty combination is sure to send you home happy.
Karamea Puriri
Visit Rock-It at 248 Wainui Rd, Monday to Sunday from 9am. Dinner Friday and Saturday from 5pm. Call ahead to reserve your table, 825 8233.