One-time Raglan resident Isa Ritchie reckons it's exciting – "kind of trippy" even – to see her new novel in mainstream New Zealand bookshops at last.
It took a good few years of staggered writing to complete 'Fishing for Maui', she confesses.At the time she was living for the most part with family out Whale Bay and juggling finding the time and motivation to write with the demands of parenting and completing a masters degree through Waikato University.
"I got a bit distracted … I was quite busy," the 34 year old recalls.
But finally – after achieving her masters and also a PhD like generations of family before her – the novel's been published and an excited Isa was busy early this month signing copies at a book launch in Wellington, where she now lives.
Not that she's forgetting her roots. "I plan to do a second launch or book event in Hamilton or Raglan soon," the second-time novelist told the Chronicle.  'Fishing for Maui' is actually set in both these places – where Isa grew up – with themes around food, whanau and mental illness as told from the perspectives of nine characters from the same family.
It is also about identity and one character's quest to reconnect with his Maori heritage through the Maui legends.
Isa's storyline is based on real events – but in a different context – from her own experience as a Pakeha child in a bicultural family. And in real life it was interesting to see how those around her reacted differently, she explains, when one family member went through a breakdown.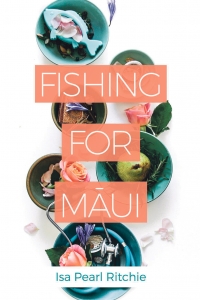 Quite a chunk of the 365-page novel, which Isa started writing in Hamilton but finished in Raglan, was penned in the warm ambience of The Shack, she says. Rather than double trip back out to the bay she'd hang out at the popular downtown eatery while waiting for daughter Tesla – now nearly 10 – to finish kindy.
The cafe environment offered a helpful level of distraction, Isa adds, and was "really good discipline" because now she's able to repeat the exercise and write 500 words or so in an hour's lunch break at work.
Currently based in the capital as a social policy adviser in the public service, Isa has for a long time wanted to get her writing "out there" while not necessarily aspiring to be a fulltime author. "I don't want to put too much pressure on creative things (in my life)."
Even so a third  novel, 'Innerspace', is already taking shape. She published her first work of fiction, 'The Seekers' Garden', back in 2012.
Isa credits her grandmother – Emeritus Professor Jane Ritchie, who now lives in Raglan West – as a "big influence on my writing".
An academic and voracious reader, the octogenarian "always gave us lots of books to read over the years", says Isa.
Jane provided useful feedback throughout her grand-daughter's own writing process, particularly when Isa was exploring the complex interconnectedness of food for her thesis which she then wove into the storyline of 'Fishing for Maui'.
Isa is the fourth generation in her family – after mother Jenny, Jane and great-grandparents Pearl and Ernest Beaglehole – to achieve a PhD. She graduated at Te Kohinga Marama Marae on the Waikato University campus at the end of last year.
Her new novel is published by Te Ra Aroha Press under a Creative Commons copyright licence that enables an author to give people the right to share, use and build upon their work.  It is stocked locally in Zinnia, and Isa hopes other shops in Whaingaroa will soon follow suit by adding 'Fishing for Maui' to their shelves.    
Edith Symes