This past weekend was my best friend's birthday. My best friend is a self-taught carpenter with a knack for taking things apart and rebuilding them to suit.
She has a mild obsession with remodelling people's bedrooms, kitchens or entire houses. This obsession has taken her to Los Angeles where she works as a prop assistant and set designer for movies and TV shows.
Working in the film industry inspired her to start writing her own movie script and she recently finished her first draft. She has an impeccable sense of humour and the loudest laugh I have ever heard. Two years ago, she decided to start playing the saxophone, so she borrowed a friend's sax and enrolled herself in lessons. In her free-time, she sits on her porch and plays 'Somewhere Over the Rainbow' for the world outside.
And those are only a few of the things that make my best friend so great.
So why am I telling you about my best friend?
Over the years, I have had the opportunity to work alongside many different types of small business owners. One thing I have noticed is how difficult some find it to talk about their accomplishments as a business, because their invisible 'humble hat' often gets in the way.
So, I like to encourage people to talk about their business the way they might talk about their best friend.
When it comes to your best friend (aka your business), what do you tell people? Why is that your best friend? What does your best friend do? What do they give to the community around them? What motivates them to continue to grow?
This story of your 'best friend' is your business story, the narrative of who you are, what you have accomplished and what you want to accomplish.
The Chronicle provides the opportunity for this story to be shared with Chronicle Advertorials.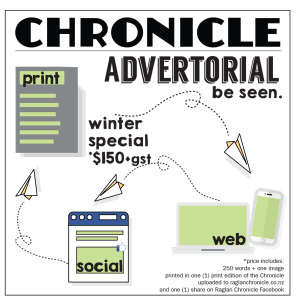 Chronicle Advertorials give businesses the chance to highlight themselves through a short write-up or a Q&A. Share your most recent successes, new services or products, or changes to staff.
Whether you have been in business for six months or 60 years, occasionally featuring your business in the Chronicle can expand your potential customer base to both print readers and those connected online.
Keeping the community in the know about your business can strengthen the community support you get in return.
We share Chronicle Advertorials in one weekly edition of the paper and online via https://raglanchronicle.co.nz to ensure they reach both our print and online audiences.
Although it seems like the internet rules all these days, believe it or not, there are quite a few residents who do not have a computer or just don't spend all their time on Facebook, yet they are still looking for local services.
Karamea Puriri
We'd love to help you discover and share your own story, so let's become best friends. Pop by the Chronicle to find out more about advertorials or give us a buzz on 07 825 7076.
*Pictured above is my best friend working on one of her many projects while FaceTiming me. Also note that she has no idea I've bragged about her in this way… and she may or may not be totally embarrassed if she finds out!