Plastic Free July is just around the corner and we invite you and your whanau to give it a go this year!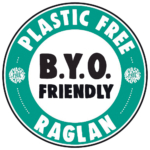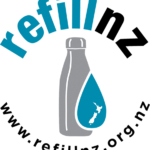 Most of Raglan's cafés and food businesses have partnered with the Plastic Free Raglan programme and are keen to reduce their single use, ready and willing to accept your reusables. Keep your eye out for BYO Friendly and RefillNZ stickers around town.
Whether you'd like to tackle the TOP 4 (bags, drink bottle, coffee cups, and straws), OR try it for just one room in the house (what would be harder, kitchen or bathroom?), OR jump on the grand adventure and try going completely PLASTIC FREE for JULY. Here's some tips to get you started.
✓ Start with checking out what plastics are in your life. You may have noticed this already during lockdown stockpiling. If we keep our rubbish and recycling for a week and go through it with our whānau, we can learn what we need switches for.
✓ Every adventure needs to start with a map so we can locate helpful places: Bulk food bins, butcher, bakery, crop swap, refilleries, drink fountains, and op shops for super cheap reusables.
✓ Get yourself a rucksack of tools: Drink Bottle. keep cups, jars, containers, cloth bags.
✓ Schedule some family time to DIY together. We will be sharing videos on our social media pages or join in with Timebank Raglan workshops teaching DIY nut mylks, crackers, beeswax wraps, and more!
We love that this community proudly support local. So snap your selfies while sitting and sipping, reusing and refilling. Share the good word for their commitment, your commitment and our towns commitment to saying see ya to single use, remembering our reusables, and living Plastic Free!
Sign up to Plastic Free July challenge:
www.plasticfreejuly.org
@plasticfreeraglan.nz
#ReusableRaglan
@plasticfreejuly
#PlasticFreeJuly