The circus came to town when Jair and Jessica Ramirez decided to settle in Raglan bringing their Freedom2Fly classes with them.
The couple are aerialists (aerial strap experts) – strap ends are wrapped around hands and wrists to enable performers to do holds, twists, rolls and manoeuvres, similar to men's rings in gymnastics – and say the classes are awesome for strength-building, flexibility, balance, wellbeing, coordination, spatial awareness and left and right brain function.
"People don't realise how much strength they are using when they are having fun," Jessica says.
Born in Colombia in the 1980s – a far cry from the family friendly coastal lifestyle the couple enjoy in Raglan, Jair discovered his love of acrobatics as a kid growing up amid the Bogotá slums; street performance and the circus was a way out of that world.
He spent six years training at Circo Para Todos in Cali and Circo Ciudad in Bogotá and went on to perform around the world.
"I always knew I wanted to travel around the world and meet people. Circus performing helped me achieve that," Jair says.
Originally from Te Kuiti, Jessica made the move from dance to aerial straps when she met Jair in 2009, when they were both performing on a cruise ship in Singapore.
"Aerialists were always treated better and paid more on the cruise ships. Aerial performance just has that wow factor – it's something different," she says.
Realising the potential for dancers to earn more money, the pair founded Freedom2Fly in London in 2013 to train dancers in the aerial performing arts.
They made the move to New Zealand last year and have since tailored their aerial classes and workshops to cater for all ages and fitness level.
While Jair still travels to perform during the week, the pair are holding classes in Raglan on Saturdays at the Raglan Area School gym.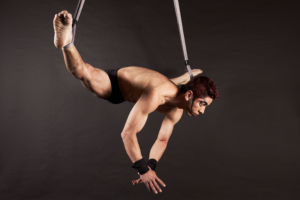 Heavily pregnant with the couple's second child, Jessica is still hands-on instructing alongside her husband and she gets a lot of satisfaction from spreading the joys of aerial performing.
"I love seeing the underdogs get really good and doing things they didn't think they could do," she says.
The five classes catering for a range of ages – Flying Fit for ages 14 plus and is aimed at increasing upper body and core strength, F2F youth class follows for children aged 7-12 and combines circus, aerial skills and fun.
F2F open class follows the same format at the youth class but for 13 years and older, Aerial Hoop and Silks class is heavily focused on building a repertoire of moves in aerials and is for all ages including adults, and for the tots there is the Mini Muscles class for two to six-year-olds.
Janine Jackson
For more information contact Jessica at jess@freedom2fly.co.nz, 022 514 1766, Instagram @freedom2flynz or check out the website freedom2fly.co.nz.