Students from Raglan Area School are working for a better world while gaining NCEA qualifications.
Fifteen year 11-13 students are taking part in the Karioi Earthcare programme, led by Raglan's community Karioi Maunga ki te Moana project and Papa Taiao Earthcare, a sustainability and ecological restoration training organisation.
Karioi Maunga project leader Kristel van Houte, who will help deliver the programme, says students this year will gain NCEA qualifications in predator control and learn about the biology of different predators that are found on and around the mountain.
"Students will also learn a huge amount about our local maunga and the work the Karioi project is involved in."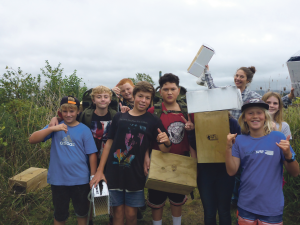 The Karioi Maunga project is a community-led conservation and biodiversity restoration project that includes seabird monitoring, predator control on more than 2000 hectares of land and an after-school educational programme for children.
Kristel says the NCEA programme will enable the students to lead enterprising social, cultural and environmental projects while gaining NCEA qualifications and environmental skills.
"It links into where the future is going with predator-free 2050 and links into job opportunities in conservation, ecosystem restoration, environmental and resource management and sustainable technologies.
"The programme is for academic and practical students. There's a lot of hands-on experience but it's also about learning about management and business skills."
In future years, the programme will expand into fencing, stream restoration, planting native trees and aquaculture.
The programme fits with Raglan Area School, says Kristel, because it is an Enviro school and already has its own trap line that it is part of Karioi Maunga's Backyard Hub.
Principal Malcolm Cox says he's excited about the programme.
He says it aligns with some of the long-term goals of government, such as pest eradication, swimmable rivers, coastal restoration and biodiversity management, and it fits in with the Treaty. "It ticks all the boxes. It's got to be a winner."
Malcolm says he loves that it works in with a community initiative and it has the potential to become part of the curriculum at school.
Inger Vos