What can we say?! We had the idea of making trinkets and treasures and signed a two-year lease with the attitude 'let's see what happens'. Youth! That was 21 years ago!
Look at us now; Show Off has become very social (thanks to all of you), cosy and relaxing and a wonderful space to work. We've become renowned and highly regarded for our pounamu and work with some of the best carvers in New Zealand.
A big thank you to the clients who come to Show Off when you are looking for something special.
To all our great staff, past and present, and to Guele, our co-designer, for his unique deisgns over the many years. To Ken Tainui for introducing me to pounamu and sharing his knowledge and to Mick Collins for taking over from Ken.
Thank you to all the artists who have exhibited over the years. Jane
Galloway and Palm Prints in particular. Jane approached the gallery in the first year asking, "do you like this painting?" I replied, "YES!" This began a successful 20-year partnership.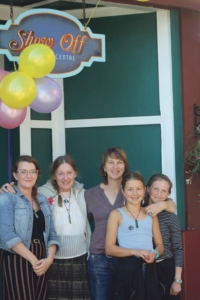 Show Off continues to be a pleasure. Arohanui, – lots of love – happy Easter.  Adele.
Show Off Aoteraoa NZ, open daily, 10am – 5pm, 2 Bow St. shooffnz@hotmail.comn 07 825 7962.