Colin Chung and his team of helpers are organising another midday Christmas dinner at the Raglan Town Hall, on Christmas Day.
"If you are finding yourself alone, or without extended family; or for some reason you may not be able to afford Christmas dinner this year – then come on down as it'll be like any other family Christmas dinner, the family just happens to be the Raglan community, and the home happens to be the town hall" says Colin who extends an open invitation to anyone in our community.
Colin, Rhonda Chung & their team of helpers are once again preparing a delicious feast including turkey, ham, lamb, sushi, mussels, salmon and loads of salads and vegetables – they can, however, use extra desserts, so if anybody is making dessert for your own dinner, make another for us and just bring it down to the Town Hall before 12 noon on Xmas day.
Santa will be on hand to make this annual occasion a day to remember with Xmas carols to be sung and also local musicians providing entertainment.
A special word of thanks to the Raglan Hospital Trust, the local Raglan Lions and the local council of churches for their generous funding to help with staging this annual event and the many other community members who have donated their time, effort and goods toward this great event.
Please call Rhonda or Colin 825-8289, or Dave 825-8792 however – please leave your name, phone number & address if you'd like transport (to and from the Town Hall)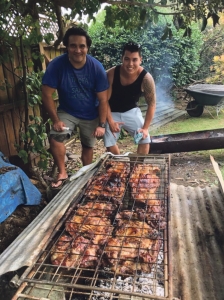 RAGLAN COMMUNITY CHRISTMAS DINNER
Finding yourself alone at Christmas (with no family around & needing some cheer), and you'd like to share a Christmas dinner with your own Raglan Community?
———————————
RAGLAN TOWN HALL
Christmas Day
12.00 > 3.00 pm
transport with wheelchair access available
phone Rhonda or Colin 825-8289, or Dave 825-8792
– NO CHARGE –
———————————
We are also looking for volunteers to help out with things like decorating and general set up etc. Contact us at the number above.