The final day of the 2018 Scholastic Championships started off with perfect waves in the 1.0m range and offshore winds at Makorori Beach, Gisborne.
Unfortunately, onshore winds arrived in the afternoon part way through the finals and they deteriorated the conditions somewhat for the last heats of the event.
Caleb Cutmore won the Under 18 Boys Division, which added to his win in the Under 16 Boys in 2017.  His gold medal almost wasn't to be with a tough run to the finals.
"I was stoked to actually just make the final. I had a couple of close heats prior to that, but in the final I found a few waves luckily, as it was a bit messy," said Cutmore, who is a little over a week away from heading to his second World Junior Championship. 
Titles in the Under 16 Boys' and Girls' Divisions went to Waikato surfers Kora Cooper and Brie Bennett who joined Caleb Cutmore atop the podium as the most winningest region at the event this year.
Cooper added to his Under 14 Boys' Division title in 2017.  Cooper started the final with an eight point ride and then midway through the heat added a seven point ride for a comprehensive lead.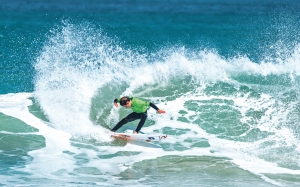 "I tried to stick to the lefts because my home break is Raglan and I surf my best on my backhand, so I tried to get two good ones and then paddle over to the guys on the other peak," said Cooper.
He never let the lead go holding off Tom Robinson who was Northland's highest placed surfer in second.  Both surfers head to the World Junior Championships this month as well, so their performances are vital for their preparation.
"It is good to get a win here in New Zealand and get some confidence up before we head overseas to the worlds at the end of the month," said Cooper.
Brie Bennett posted a 10.10 point heat total to win the Under 16 Girls' Division. The turning point in the final came on a nice right-hander for Bennett where she completed two big backhand turns for a six point ride.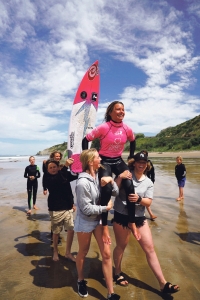 "I got one good right-hander. I only got two waves in the final, but that was enough for the win I guess."
Bennett defeated Georgia Wederell (Mnt) who finished in second ahead of Estella Hungerford (Chch) in third and Summer Carkeek (Auck) in fourth.
SNZ