From Tuesday 29 January, a new double decker bus will start on the Raglan route, providing a significant number of extra seats to make your journeys more comfortable.
The double decker has 87 seats, compared to the 49 seats on the current bus.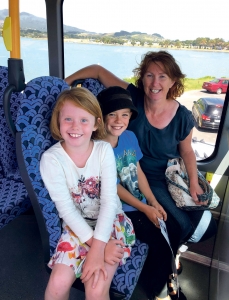 See more information here:
Buses are fully air-conditioned, have increased luggage space on board, and have free WIFI and USB charging points. They also have  CCTV.
Each bus has an exterior bike rack, with room for two bikes at a time. There's no charge for using the bike rack, but loading and unloading the bike is the responsibility of the passenger.
The double decker bus will run on the following services during school terms:
7am: Raglan to St John's College via Hamilton Transport Centre
3.15pm: St John's College to Raglan via Hamilton Transport Centre
Please contact us via busit@waikatoregion.govt.nz or 0800 205 305 if you would like to discuss these changes.
There are route and timetable changes for these services.
The higher bus is unable to use the full length of Bow Street due to low trees, and also unable to use Norrie Ave due to the steep gradient of the road. The double decker will start and end its journey outside the fire station on Wainui Road.
Passengers at the Raglan West, Norrie Ave, and the harbour end of Bow and Wallis streets will need to use an alternative stop on the route, or take the Raglan Assist bus and change at Te Uku.
The double decker bus will use James Street to connect back on to Wallis Street – bus stops will be installed here but may not be in place by the end of January. Please hail and ride the bus here if required.
All other trips during school terms will be served as normal with the single decker bus.
In school holidays the single decker bus will be used, but will have a modified route for the 7am service to Hamilton and 3.40pm service to Raglan. The bus will  start in Raglan West (corner of Te Hutewai and Wainui Roads), but will travel via Wainui Road (fire station) and James Street, not Norrie Ave. Please note this bus will also start 5 minutes earlier in the morning, leaving at 6.55am.
WHATAWHATA ASSIST BUS ROUTE CHANGES
From Tuesday 29 January the start and end point of the Whatawhata Assist route will be in Store Road, Whatawhata. The Glentui Lane stop will still be used by the Raglan and Raglan Assist buses – please signal the driver.