He's only 12 but Zak Hooper has a plum job over the holidays that's really taking him places. And you could say the sky's the limit.
The Hooper family typically spend their summer break at their Wallis St bach, where they have a particularly prolific black doris tree – and access to a neighbour's as well.
"We drown in plums in January … we're knee-deep in the damn things," laughs Zak's mum, Jenn. She says that last summer they got 10,000 plums off just the one tree, from which they "hang like heavy grapes".
Zak's role in the family operation is first to help pick the plums – and to rake up those on the ground so they don't get squashed. Once Jenn has graded the fruit he puts twisties onto the 1kg bagfuls, which are priced at $4, and sits on the verge outside selling the plums to passers-by.
And with Facebook orders also flowing in, he doesn't have to sit on the grass very long at all before he's in clover.
Zak's big dream this summer was to take a flight over Raglan with the Piako Gliding Club, so with proceeds from the plums topping $600 this season he got an upgrade from an $80 to a $120 flight, with the glider released from its tow plane at a height of 1500 rather than 1000 metres.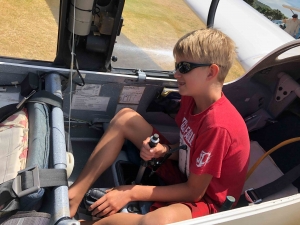 Jenn says he was "pretty stoked, pretty happy" to be soaring over Raglan as free as a bird. And there's still lots of cash left over, so Jenn says that will be the kids' spending money not only while holidaying here but for the whole year too.
The plum job might be money for jam but there's an altruistic element too to things: Zak rushes out each week to give a few bags to the rubbish/recycling guys, and Jenn sometimes takes her plum jam up to the local rest home.
Jenn says the family's grateful for all the community support "and we love that the people come by and chat".
Edith Symes