Federico Gigli came to Raglan both for a break and to promote a surfing-themed African humanitarian project called Vanderful – but ended up incapacitated by a stingray attack.
The 23-year-old biologist/surfer had planned to spend the last 10 days of his six-month New Zealand visit "relaxing and surfing", and doing a little networking, in Raglan.
But a trip across to Mt Maunganui on Waitangi Day, where he lacerated three tendons in his lower left leg in an encounter with a stingray, curtailed his lazy days at Wallis St backpackers hostel Lazy Stayz.
Instead he found himself admitted to Tauranga Hospital for a few nights as medical staff made sure the stingray's barb hadn't caused any permanent damage or poisoned him.
Back in Raglan last Saturday, Federico was counting his blessings. "I'm very lucky really, 3mm more and I could've lost the nerve, vein or the whole foot," he told the Chronicle.
Federico then had to forego this week's flight to Africa in favour of an unscheduled return home to Italy, for six weeks' recovery and another three of rehabilitation. "There's no-one here to take care of me," he explained.
But all was not lost as the Africa trip would still take some time to organise. "We also have to make sure our van is fully prepared,"  he said. "The trip doesn't start until mid April running through to August 2020 … we are very excited."
The "we" are Federico's brother and his girlfriend, who have been teaching in Namibia, and another couple of "idealists". The group will travel the Atlantic African coast in a Volkswagon Kombi, staying in every country for a month – "though maybe not the republic of Congo, it's too dangerous".
They have a programme at various schools to teach the children and adults in the community how to build alaia surfboards – ridden in pre-2oth century Hawaii – which are "more pure" than fibreglass boards and use no toxic materials.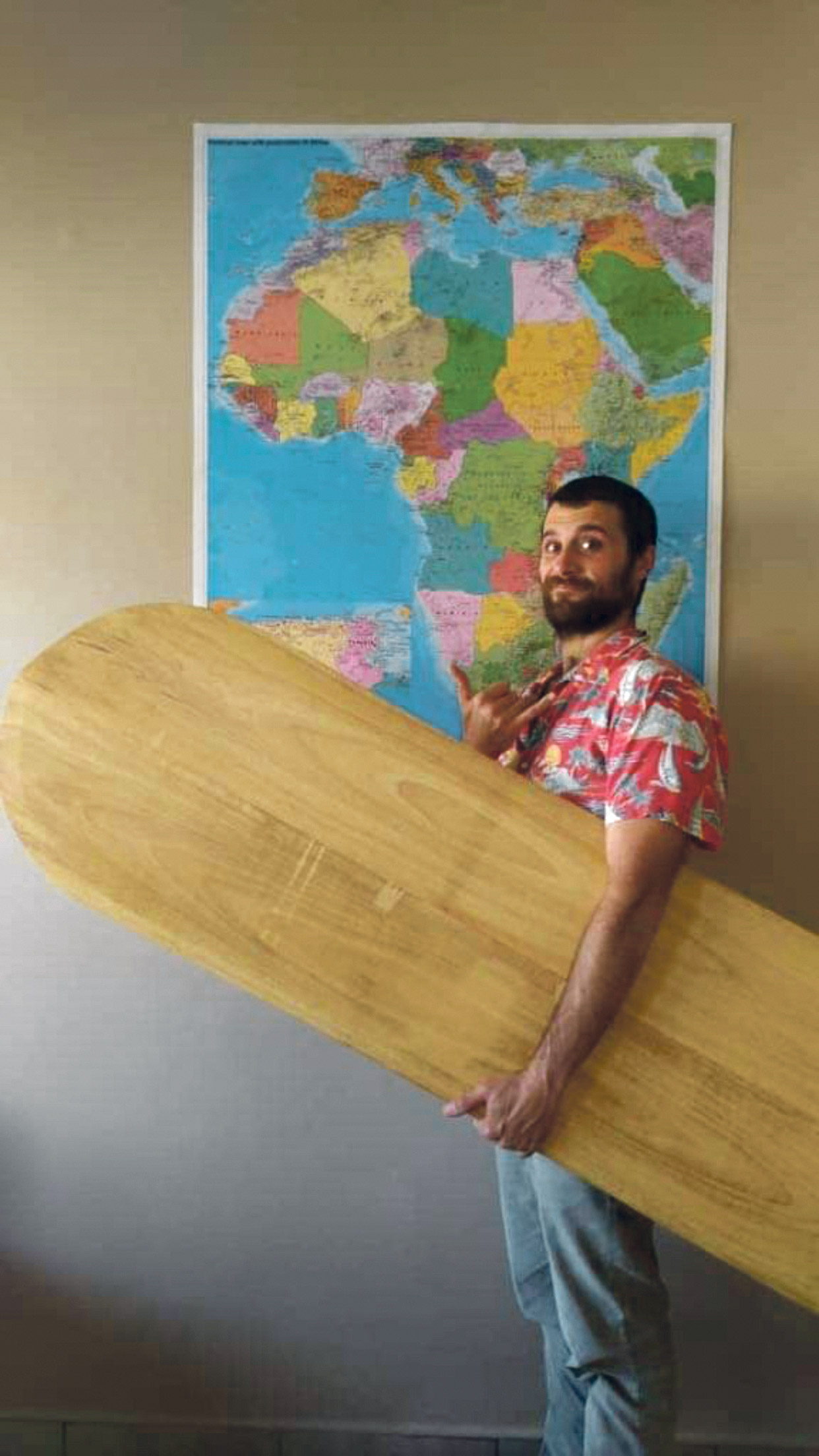 Alaia boards are made of wood – "Africa is very rich with wood," Federico points out – and have natural oils to make them hydro-repellent.
They are shaped in a different way to today's boards – round-nosed, square-tailed – and have no fins.
Federico said west Africa was incredibly good for surfing, getting all the swell from the south and southwest and also from the north.  But it was not generally popular because it was difficult to reach and travel in, and was a poor area of the world.
Their Vanderful project will be run and funded under the non-profit organisation Seeds of Hope.
The aim: to empower people who may soon face a fast rise of coastal tourism.
The three-week programme in schools will not only teach children how to make their own boards, but how to swim and be safe in the water.  Drama workshops will also run to build confidence and independence. "We want the children to have fun and to bring some happiness to them."
The environmentally friendly programme will include both cleaning the beaches of plastic and making surfboard accessories – like leashes and surfing bags – from the recycled materials.
Ultimately, participants will be able to build their own sustainable work or businesses in the future.
Fuel use will also be offset. "We tried to find a way not to use gasoline but it was too difficult and too expensive, so when we've finished the trip we will calculate our CO2 use and plant that equivalent in trees (through other organisations)," said Federico.
He added that the more followers they have online, including at vanderful_adventures on Instagram, the better chance they have of ongoing funding. Surf4Children in Italy will help in parts like Sierra Leone, and they already have funding contacts in other countries like Liberia and Morocco.
Meanwhile a five-day fundraising campaign is about to start: www.vanderful.org
Edith Symes