Raglan riders have taken out top honours at the 2019 New Zealand Cross-country Championships.
The senior title went to Raglan dairy farmer Jason Dickey and Coby Rooks took out the junior title at the championships.
There were just five points between Raglan's Coby Rooks and Eltham's defending national junior champion Adam Loveridge and after a hard-fought race Rooks took out the national title by just four seconds.
A former Te Mata School student, Coby now attends New Plymouth Boys' High and when he can he heads home to practice.  The 16-year-old has been riding since he was three but only started competing about four years ago.
He has won the Western Warrior XC event held near Oparau, the 250cc class for the North Island and New Zealand champs for the past two years.
"It's an awesome feeling to come away with the win.  It wasn't easy as Adam is very fast too.  We were neck and neck throughout the whole series and I just kept the pressure on him hoping he'd make a mistake which he did on the very last lap enabling me the win.  Massive thanks to my supporters on the day.  Stoked to be bringing home the New Zealand title," Coby says.
Dickey (KTM 350XC-F) had been unbeaten for most of this season, showed up at the fourth and final round between Taumarunui and Kuratau with all pressure off and the national title already in his possession.
"I have not done much riding lately, so was just having a bit of fun today," said Dickey afterwards.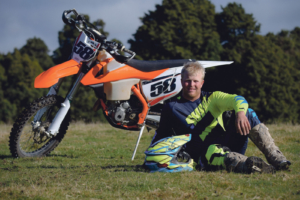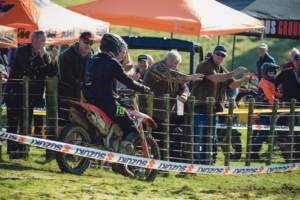 "I suffered from 'arm pump' today. First lap I felt good but then it started hurting. I couldn't run the same pace as the leaders today. I just rode to survive. I will be back to defend my title next year."
Motorcycling New Zealand cross-country commissioner Chris Smyth agreed the racing at Saturday's finale was a thriller.
"It was good in particular to see the close race by the juniors. It was a tough and demanding track for the juniors and for the seniors too. The riders would have to have put a lot of thought in to survive the distance."
Cross-country race is a test of endurance for the riders lasting one and a half hours for juniors and three hours for the seniors.
The track is marked out over farms and the riders encounter many different obstacles, such as forest, swamps and bogs, as well as fast open areas.  The junior track is usually between 10-13 kms and the seniors around 20 kms. 
Janine Jackson