On Saturday, May 25, Orca Restaurant was filled with men and women alike, gathered together to raise awareness and funds for breast cancer.
The brunch and auction event was a success with around 90 guests in attendance and over $13,000 raised for the Breast Cancer Foundation.
Every day nine women are diagnosed with breast cancer and the money raised from the Pink Ribbon brunch helps fund innovative projects by some of our country's top researchers, and supports patients and their families during treatment and recovery.
The seven local women who organised the event – Rachel Brown, Lisa James, Maddie Alexander, Rachel Hudson, Charlotte Hartstone, Angelina Muru and Linda Holmes – would like to thank the  businesses and individuals below for their generous support of the event.
"And a very special thank you to Orca Restaurant & Bar, Lisa and her staff, Sacha Coburn for her inspirational humour and Julie Hannah for sharing her own experience and squeezing as much cash out of our willing guests as possible!" Added organiser Rachel Brown.
If you missed the event and would like to donate you can do so via our event funding page:
https://pinkribbonbreakfast.co.nz/page/orcaraglanbrunchforbreastcancer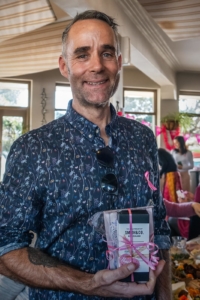 Angela Massey
Angelina Muru – Hairbox & Arbonne
Anne Parr Photography
Artisan & Merchant
Armin Schmitt
Bernadette Gavin
Billy Stairmand
Brodie Reynolds Artist
Herbal Dispensary
C-View Window Cleaning
Carol – Moroccan goods
Cheeky Business
Cinnamon Cafe
Colin Chung
Direct Tech
Dixie pearl
Lifted
Georges Beach Club
Gothenburg Restaurant, Hamilton
Hancocks
Heather Boer (Flight Centre)
Jim Beam Homegrown Music Festival
HQ Co-working Space
Janet Scott Photography
King Cleaning
Kymme Spry Massage
Leap
Leef Florist
Lilly Bee Wraps
Mamas Kombucha
Zinnia
Margaret Boggiss
Marianne Aschenbrenner
Michelle O'Donnell-Hight – Happy Coffee
Morning Glory – Raglan Organic Coffee
Next Level Roofing
Novotel Tainui
Pisey Leng
Raglan 4-Square
Raglan Chocolate
Raglan Chronicle
Raglan Coastal Beauty
Raglan Coconut Yogurt
Raglan Garden Girls
Raglan Honey
Raglan Horticultural Society
Raglan Karioi Trial
Raglan Pharmacy
R & R Fitness
Raglan Relish
Raglan Surf Co.
Raglan Surf Emporium
Raglan Yoga Loft
Rangitahi
Ray White Raglan
Richard Gemmell Artist
Robert Currie Artist
Rock-it Sarah-Kay
Salsa Brava
Sew Love
Sarah Steed Jewellery
Scott Rabone Photography
Raglan Storage
Sioux Swann
Sofit
Tessa Von Huben Pilates
The Monster Company
The Round Tent
Tonic Hairdressers
Raglan Landscape Supplies
Water Tight Construction
Weka Coffee
Wild Coast Ruapuke