Longtime Wallis Street resident Kathy Ashby lives so close to the sea that she literally steps off her front deck at high tide for a daily dip.
She's even fished from that deck – like her mother Maudie before her.
"The snapper would go straight in the smoker for tea," Kathy once told the Wintec team who produced the 'Baches of Raglan' book in which her property featured a decade ago.
"There aren't too many places in the world where you can fish off your own deck," she said in an interview with co-editor Venetia Sherson.
But it's the end of an era for Kathy after she recently sold the distinctive white stucco house that juts out into the harbour, with a view to the nearby wharf one way and towards the harbour mouth the other.
Kathy's now busy packing up more than 20 years of accumulated possessions, ready for a move to Hamilton next week which will take her closer to friends, family and other interests.
Yes the septuagenarian will miss the "panoramic view" and her swims each day. But in fact it's the sea itself she reckons she'll miss most.
Her mother wrote to her in 1992 – when Kathy was living on Norfolk Island – to say she'd bought a house at Raglan after years of family holidays in a caravan at Kopua campground.
The property became a weekend retreat for get-togethers, Kathy recalls, until Maudie moved into it full-time. By then she was well into her 80s.
Then Kathy returned to take care of her aging mother who lived to the grand old age of 100, albeit at Raglan Rest Home near the end.
"My best memories are of our family get-togethers (here)," Kathy told the Chronicle nostalgically.
But along the way she'd renovated the art deco style home – taking it from four bedrooms to two with an en suite – and for the past five years she's been kept busy by offering casual bed and breakfast accommodation.
With its proximity to the water it's been a popular B and B, and the baches book that features her home has always graced the coffee table in the small guest lounge looking out to sea.
Kathy says she's spent a lot of money over the years on what is now a million-dollar property, including the building of a new concrete sea wall out front. The art deco fireplace remains a feature, its original tile surrounds intact and unchipped.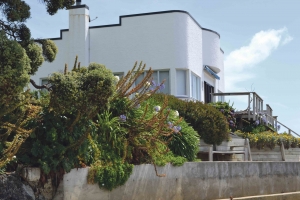 Kathy's enjoyed not only fishing – being careful to miss the agapanthus when throwing a line off the deck – but also kayaking out beyond her front doorstep.
However she's a busy woman – often commuting or at Ngahinepouri golf course – and  has  managed  to see the orcas only occasionally on their regular visits up harbour.
"I saw them that second-to-last time (this month) with the two babies," she says. "They were lovely."
Edith Symes