One of the great impressionist painters, Claude Monet, is credited with saying that, "for me, a landscape does not exist in its own right, since its appearance changes at any moment."
It's hard not to see the truth of this statement when you look at the changing landscapes of Ken Thomas' paintings. Where some of us might see a breaking wave, rolling hills or a tree, for him, it's often more about a moment in time or a mood, the difference in feel between the tides.
"My work is inspired by nature and natural things. I'm more of a landscape kind of a guy, I focus on moods and I also do the odd portrait. Sort of impressionist I guess."
Mostly working with oils and varnishes, his paintings often start as a sketch which he develops into a study and then through to paint where different spectrums of colours are reflected in layered considerations of the landscape.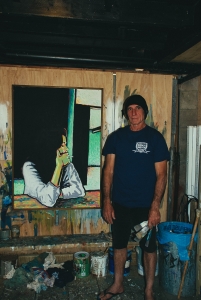 Ken also speaks of his love of music and the correlations he sees between art and music.
"I've been part of a few underground bands and a huge amount of my friends are great musicians and I always see music as, not just writing a song, but performing,
"it's similar with painting too, it's still a performance."
With loud music "always" being part of the painting process, you can almost see the vision of arms moving wildly coming through in Ken's brushstrokes.
He says he is more of a bass man and enjoys lots of percussion, musical influences that again seem to come through in the subtleties of his work. The rhythms in the colours that he uses and an underlying mood that comes through like a groovy bassline.
When the Chronicle visited Ken's Raglan West studio he showed us some of his earlier work from the eighties which is crafted with house paint and fluorescent surfboard paint. While the works are from around 30 years ago, you can see the bold brushstrokes and inherent vibrancy that you see in his work today.
Ken recalls one of his earlier exhibitions held in Hamilton at what was called the Slaughter House Gallery, a butchery on any other day, owned by Peter Coddington at the back of where the Heart and Soul shop was located.
"I had these big canvases all done with fluoro surfboard paint. It was called A Pigment of Your Imagination." He recalls with a grin.
Prior to painting full-time, Ken had a background in graphics and illustration, producing artwork and logos as well as clothing designs for Town and Country surfboards during the eighties.
"Everything changed when things started going digital and I got more involved in shaping surfboards and painting which is more hands-on. Luckily I was producing stuff that was good enough to sell."
About the time he started painting, Ken also started Kina Boys, a clothing brand that some Raglan locals may recognise. An underground brand in the true sense of the word, Kina Boys was born while Ken was living on the North Shore of Oahu, Hawai'i.
Some may also recall Fever Surfboards, a surfing label owned by Ken and Glen Campbell (under which Glen won a National surfing title), a satellite label to Hamilton's Backdoor Surf Shop, which was also started by Ken.
Ken will be returning to his old studio, Rock-it, for his latest exhibition showing 15 pieces of 'Recent and New Work'. His pieces will be on display at Rock-it from this week with an auction to be held on November 18.
Selling his artwork widely from London to New York as well as locally in Raglan, his paintings often sell out, with phone bidders sometimes attending his auctions on behalf of art collectors.
There will not be any pre-sales so all pieces will be sold strictly by auction.
Admitting that it is "always hard to let go," of some of his paintings Ken has had his time with them and he plans to get straight back into new work once this exhibition is over and is thinking about trying out some new directions as well.
M.N.
Ken Thomas Exhibition – Recent and New Work. October 18 – November 18 at Rock-it, 248 Wainui Road. All works to be sold by auction on Saturday, November 18 at Rock-it, 3-5pm.