The youngest students at Raglan Area School are excited to start the third term in a new classroom after the refurbishment of the junior block.
The old block, which opened in 1962 and had not much done to it over the years, has had a dramatic overhaul, which meant the students worked in the library for the first two terms of the year.
Now they are all back where they belong, in larger spaces with interlinking breakout rooms and wet rooms for painting and messy work. And there's a giant 30-plus-metre deck – all under cover for extra space – along the length of the block with basins and taps for washing hands and feet.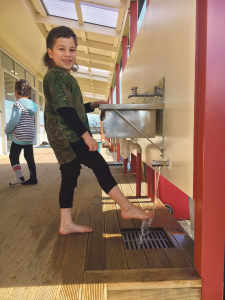 Principal Malcolm Cox says the teachers and the students love the refurbished space.
"The rooms are warm, double glazed windows … the lighting is better and the rooms are carpeted."
The new entrants classroom is twice the size now, to accommodate a growing number of students throughout the year.
Meanwhile, three "roll growth classrooms" were craned into place during the school holidays to provide relief for the numbers of students in the senior school.
Mr Cox says he hopes they will be ready for the year 9 students to move into in four to six weeks, "by the end of the term".
Given the roll numbers, the school is already due even more classrooms by the Ministry of Education, he says.
"They told us when we hit 500 they would do another review. We are over 500."
Mr Cox says the school is "jamming" students in wherever it can and "just make the space work for us".
The new prefabs have been sited on the old basketball court.
A new "much nicer one" one will be built nearby.
Inger Vos