Thinking small mightn't always be seen as a positive attribute but it's reaped one Raglan couple an exciting new business – and now a win in a nationwide contest.
Chris Morrison and partner Eve Macfarlane's 16 sq m home tucked away from the hubbub of SH23 on the outskirts of town has been voted Tiny House of the Year in an online competition run by organisers of the NZ Tiny House & Alternative Living Conference to be held in Auckland next month.
It's what Eve describes as a "humble win" – the prize being free tickets to the sold-out conference along with a $200 Mitre 10 voucher – but also a fillip for Chris's fledgling local business.
So far he has three tiny homes to his credit, all built – on trailers – at the old dairy factory in Wallis St.
One is the couple's own ingenious abode which features among other things a compostable loo, generous deck, mezzanine-like loft bedroom and a shoebox-sized wood-fired stove which saves space by sitting atop a cabinet.
"We love the lifestyle, freedom and security it (the tiny house) has given us," Chris posted last week on Raglan Notice Board in a message thanking the local community for its online votes of support.
"We can vividly see this way of living to be a great alternative for our local community with the current housing/rental crisis here in our town," he added.
Chris and Eve know first-hand how hard it is to be forced out of a rental with no place to call home, and suggest landlords could add a tiny house to their property – for themselves or for an Airbnb  income – freeing up family-sized houses for those in need.
They themselves had to downsize into a 10 sq m shed – with no running water or electricity – on a friend's property before shifting 18 months ago to their tiny house, which they say felt like a mansion by comparison.
Eve, a former world champion rower with a couple of Olympics under her belt and another in her sights, says the build made her realise "you actually don't need much to be happy". Now back in training with the Rowing New Zealand summer squad, the 26 year old relishes a lifestyle of flatting with fellow high performance athletes in Cambridge five days a week while heading out to her "happy place" to be with Chris and their cat come the weekends.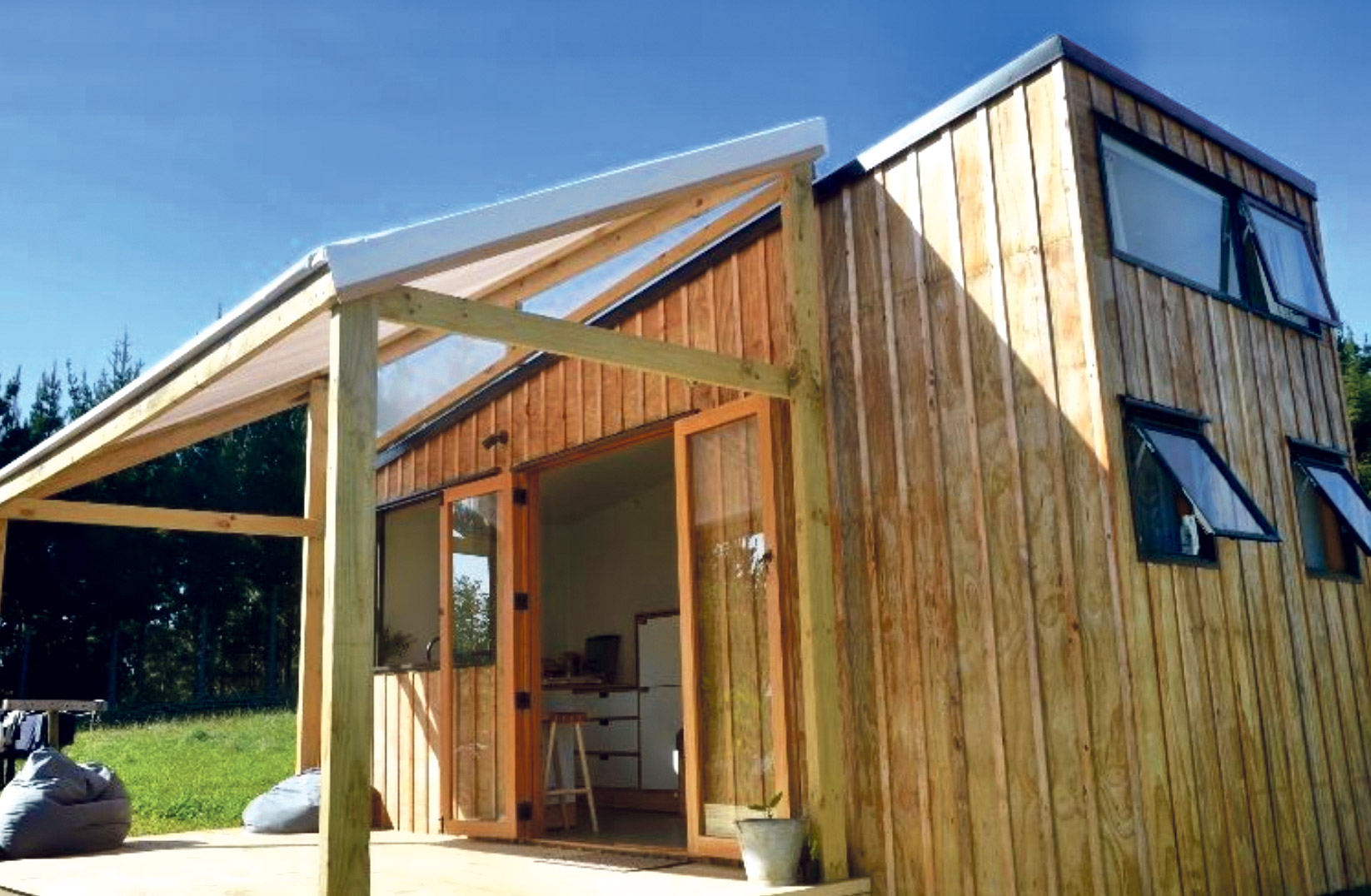 "It's a really nice balance between sport and everyday life."
Chris meantime is busy indulging his passion for woodwork which started way back as a kid building treehuts on his parents' Hikutaia farm.
A  former New Zealand under-23 rower himself, Chris suffered a back injury and reckons he drove teary-eyed to Raglan to "assess" his options. And a year after mooching around doing odd jobs, he started making outdoor furniture coming into the summer of 2015.
It was "rustic" slab stuff, he recalls, then more modern indoor tables and vanities which sold online. His business, Four Leaf (as in clover), was born and building tiny houses came next.
"I always wanted to do my own thing," he told the Chronicle.
Chris offers different stage options to people on the lookout for an alternative build. A tiny weather-tight home on wheels for instance, with the interior left up to the purchaser to make their mark, goes for $40,000; their own tiny home including Chris's interior cabinetry and the added deck is priced at $95,000.
"We live in ours to (get to) know our product," says Eve. The pair also regularly use it as a showhome.
The whole experience has taught them how to lessen their impact on the world. "For me it's about being environmentally conscious," Eve explains. "This tiny house has amplified that (concept)."
They try to use and create from old, she says, foraging around at Xtreme Zero Waste for materials and trawling Trade Me. There's also less waste in terms of having no flush loo, avoiding plastic packaging generally and working with a worm farm to establish a veggie garden.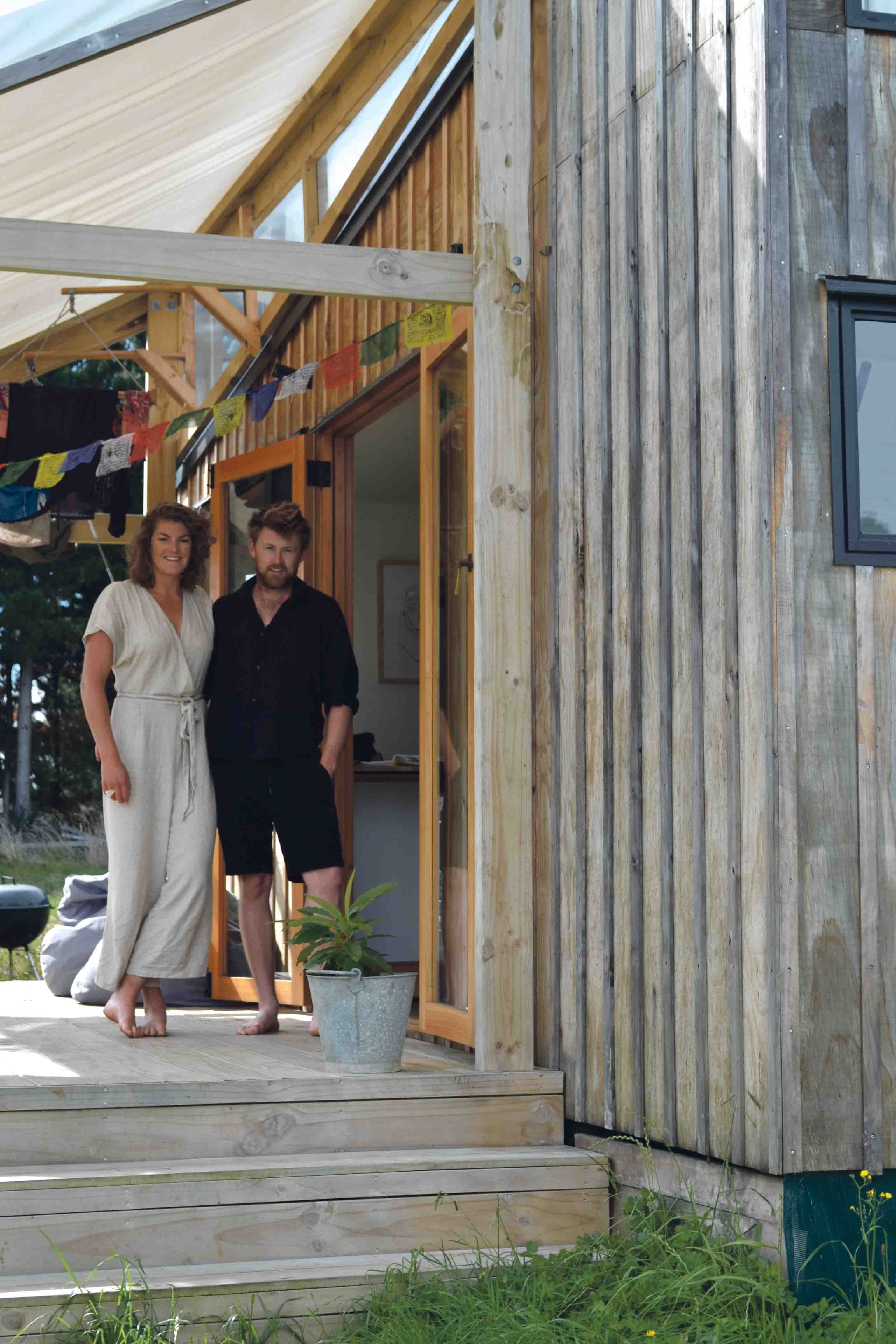 Chris sees their tiny home as a working model for Raglan. And what better place, he says, than in such a creative community.
Edith Symes
You can read more about their tiny house at this link: www.livingbiginatinyhouse.com/olympic-athlete-furniture-maker-build-tiny-home/#more-8422