Welcome to Tarot Talk – a new weekly column in which Chrissy Hodkinson will introduce a Tarot card for the week and provide a little information about it.  We hope you enjoy this space.

The card I have drawn for this week is the Four of Pentacles.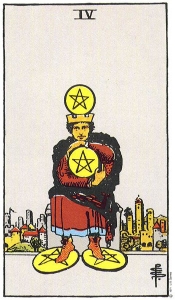 The Four of Pentacles represents a financially stable situation and firm foundations. It also shows protection of assets and traditional values.
This card can sound a note of warning however and is sometimes referred to as "the miser" card.  One of the dangers of having wealth is the temptation to value money far above its real worth and this can lead to a miserly or ungenerous attitude.
Overall though it shows that any wealth you have gained has come from hard work.  You will value what you have achieved and, for the time be keen to protect your assets.
More information about this card can be found on the Tarot Talk Facebook page https://www.facebook.com/tarottalknz.
Tarot readings are available by appointment.
Txt Chrissy on 027 6644261