Hello from Tarot Talk – a weekly column in which I introduce a Tarot card for the week and provide a little information about it.  I hope you continue to enjoy this space.
This week's card is the Ace of Wands.  Often this card can signify a new business venture or new career. It shows that a seed of enthusiasm for something new has been planted in your life although you may not yet recognise it. The sprouting seed could take almost any form. It might be a creative idea, a  surge of optimism or a need to act boldly.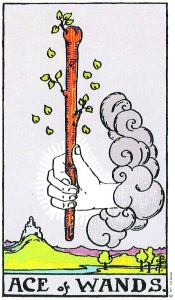 It could be an offer, gift, opportunity, encounter or synchronistic event. When you see this Ace, examine your life to see how its potent, confident energy could work for you. Be daring and brave. Sometimes you have to take a risk to get what you want. Look for the path that will excite you and push you beyond your limits.
Seize the initiative, and let your enthusiasm take you to new heights. Aces are seeds, known and unknown. But tend them well – if you want the fruit. If you don't, they won't grow. That simple.
More information about this card can be found on my Tarot Talk Facebook page https://www.facebook.com/tarottalknz
Tarot readings and tuition are available by appointment.
Txt Chrissy on 027 6644261