Hello again from Tarot Talk – a weekly column in which I introduce a Tarot card for the week and provide a little information about it.  I hope you continue to enjoy this space.
The Queen of Pentacles is a mature woman who is strongly connected to the earth.  She is practical, sensible and responsible – a capable manager of people and resources.  She has both feet on the ground, is caring and warm and likes to look after people and animals, being kind to both.  This card can either represent a person or tell you that you have or need to develop the qualities of this Queen.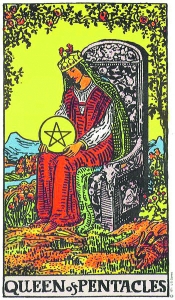 The Queen of Pentacles represents prosperity and security. No one is more welcoming and nurturing than she. Her greatest pleasure is to care for others – making sure they are happy and secure.  In day-to-day matters, she is sensible and practical. If something needs doing, she just takes care of it without a lot of fuss and bother. If necessary, she makes do with little and always comes through in a pinch.
There is a down-to-earth, matter-of-factness about her. She is always loyal and steadfast. Because she is trusting by nature, others trust her completely. When you are hurting or in need, the Queen of Pentacles will calm your fears and share your troubles.
More information about this card can be found on my Tarot Talk Facebook page https://www.facebook.com/tarottalknz
Tarot readings and tuition are available by appointment.
Txt Chrissy on 027 6644261.