Welcome to Tarot Talk – a new weekly column in which Chrissy Hodkinson will introduce a Tarot card for the week and provide a little information about it.  We hope you enjoy this space.
This week's card is The Hierophant sometimes also referred to as the High Priest.  He is named after the hierophantes, or priests, who guarded the Eleusinian Mysteries  (see https://en.wikipedia.org/wiki/Eleusinian_Mysteries for more information about these).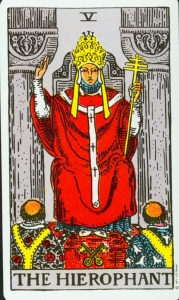 This card can suggest that you may be looking for spiritual meaning in your life or will be questioning your spiritual beliefs. The Hierophant also talks about connection with higher education, educational institutions or long established traditions and can suggest, when a question is asked, that conventional approaches are best.
Stick to the tried and true. On a day to day basis this means nurturing your talents through learning and heeding good advice. While the Hierophant offers wise counsel he also represents institutions of higher learning and traditional values. He can offer you an opportunity to question and define your values.
Whatever your spiritual beliefs, Christmas is a time when we can reflect on our life and values so this card is a very appropriate card this week. May you enjoy the blessings of Christmas.
More information about this card can be found on the Tarot Talk Facebook page https://www.facebook.com/tarottalknz/
Tarot readings are available by appointment.
Txt Chrissy on 027 6644261